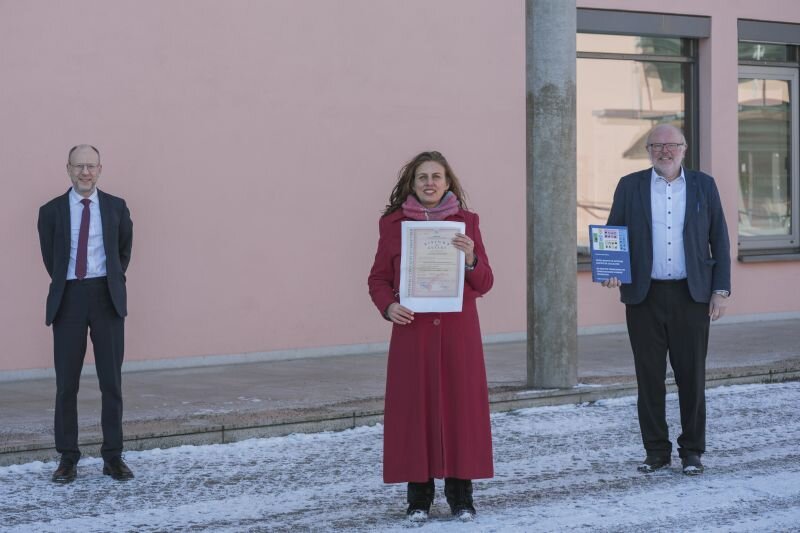 Doctorate completed
First cooperative doctorate with the University Politehnica Bucharest
17.2.2021 | DIT press office
The Deggendorf Institute of Technology (DIT) has maintained a partnership with Politehnica University Bucharest in Romania since 2012. The partnership came about through Erasmus+, a European Union programme for education, youth and sport. DIT staff member Monica Ciolacu has now completed the first cooperative doctorate with Politehnica Bucharest University and DIT.
Her dissertation "An adaptive framework for computer-based learning technology" deals with the use of artificial intelligence in teaching. Adaptive and personalised learning is to promote student performance. In addition, lecturers are to be relieved of routine work. She defended her doctoral thesis before Prof. Dr. h.c. Ing Paul Svasta (UPB), Prof. Dr. Cezar Ionescu (THD), Prof. Dr. h.c. Ing Dan Stoichescu (UPB) and Prof. Dr Ing Alexandru Serbanescu (Military Technical Academy Bucharest). The results of their work have already attracted attention at several conferences. In April, the next conference will take place virtually: the Global Engineering Education Conference, organised by the FH Kärnten and the Vienna-based FH Technikum. The theme is "Women in Engineering".
Doctoral students and those interested in doing a doctorate are advised and supported at DIT's Graduate Centre. The International Office provides advice on the opportunities offered by the Erasmus+ programme, which, in addition to study and internship stays for students, also enables doctorates or the mobility of university staff.
Bild (DIT): Prof. Dr. Cezar Ionescu (left) and Prof. Dr. Dr. Heribert Popp (right) congratulate Dr.-Ing. Monica Ciolacu (centre) on passing her doctorate.