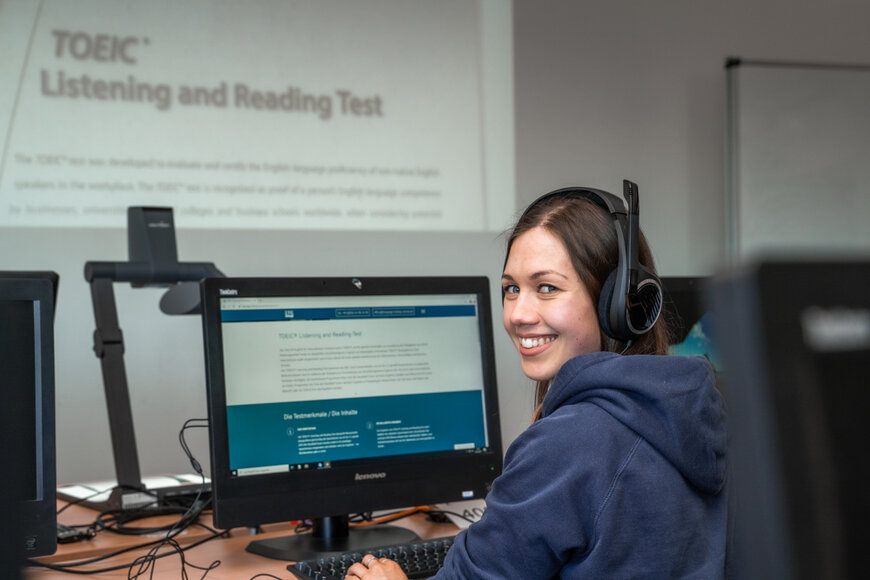 Certify English language skills
DIT offers the globally recognised TOEIC test
10.11.2021 | DIT Public Relations
Many large corporations and companies rely on the TOEIC® (Test of English for International Communication) to fairly and validly assess the job-related English skills of their employees. Because applicants and staff managers often have two different understandings of "good" English, the Deggendorf Institute of Technology (DIT) is offering the next TOEIC Listening & Reading Online Test in December. External candidates can also take part.
The TOEIC Listening & Reading Online covers the two areas of listening and reading comprehension. The two-hour multiple choice test is taken on the computer. All those who take the test are placed exactly in their personal language level according to their score and always receive a result – there is no such thing as failing. The next TOEIC Listening & Reading Test Online at DIT will take place on Friday, 10 December at 4 pm. The test date on Friday, 3 December, also at 4 pm, is obligatory. Registration is possible until 22 November at sprachenzentrum@th-deg.de. The examination fee is €130 (or €150 if a certificate is required). The number of participants for the exam is limited.
More information on the TOEIC test is available online at https://th-deg.de/en/students/language-electives#exams.
Bild (DIT): In December, anyone can take the TOEIC certificate for English at the Deggendorf Institute of Technology