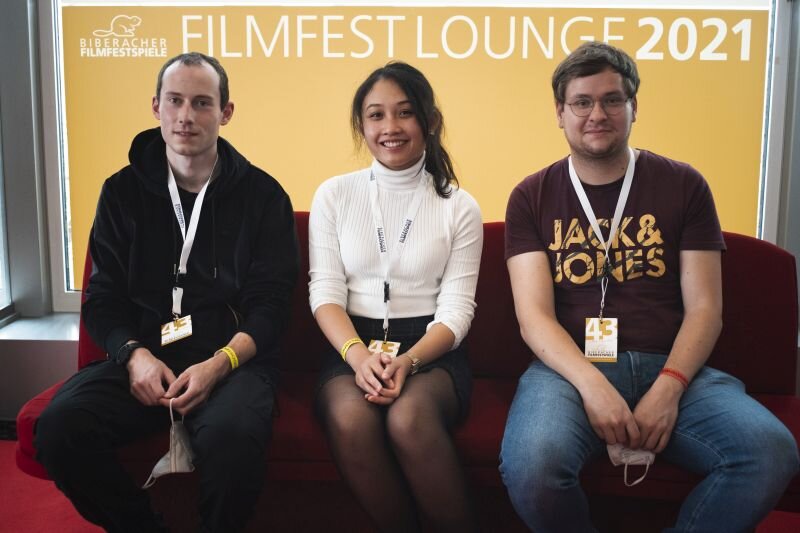 Premiere in Biberach
DIT film project at renowned festival
18.11.2021 | DIT Public Relations
Great honour for Deggendorf filmmakers: their short film "Flucht" (Escape) was presented at the beginning of November at the Biberach Film Festival, which is renowned throughout Germany. The project is a final thesis in the Master's degree programme in Media Technology at the Deggendorf Institute of Technology (DIT).
"Escape" tells the story of twelve-year-old Jakob, who repeatedly flees from his quarrelling parents into the forest. When one day his life is in danger there, he has to make a difficult decision. The twelve-minute film is the final project of the Deggendorf media technology students Kim Hong (script and direction), Moritz Grötsch (image design), Lea Blöchinger (production, production management), Julian Hofbauer (sound and music) and Nikkash Sutharsan (editing). The film project was supervised by Prof. Jens Schanze. He praises the young talents: "Thanks to their above-average commitment, the students succeeded in producing and completing the film with two child actors under pandemic conditions." Special camera lenses were used for the visual realisation of the demanding drama, creating a special cinematic aesthetic. The invitation to Biberach is highest recognition for the Deggendorf film team. The festival is considered a "family reunion of German filmmakers". Well-known directors such as Caroline Link, Volker Schlöndorff or Fatih Akin have been awarded prizes for their works there in the past, as has Oliver Haffner, lecturer in DIT's Master's programme in Media Production. The Deggendorf entry was the only short film at the renowned festival that was not produced at a film school.
Bild (DIT): Moritz Grötsch, Kim Hong and Julian Hofbauer presented their short film "Flucht" at the Biberach Film Festival.