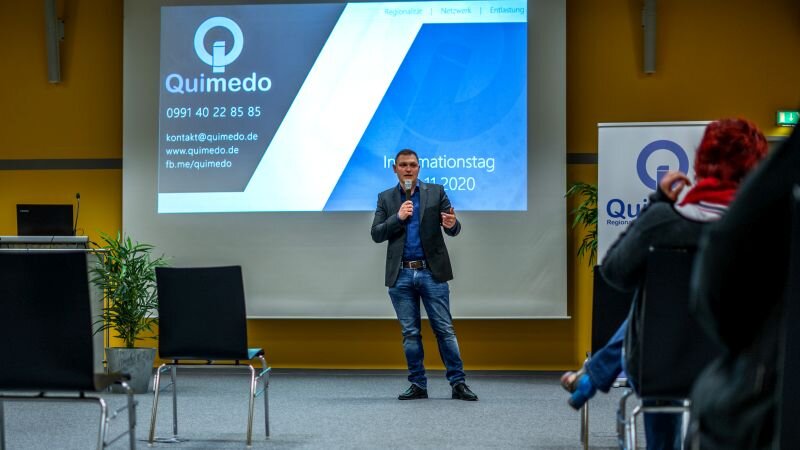 Second place in the competition Ideenreich
Start-up Quimedo convinces with app for the health sector
9.4.2021 | Start-up Campus
The Deggendorf-based start-up Quimedo has taken second place in this year's Ideenreich business plan competition. The competition, sponsored by Bayern Kapital, is organised by BayStartUP and takes place in cooperation with the Gründerzentrum Digitalisierung Niederbayern (GZDN). Innovative founders from south-eastern Bavaria who are in the process of setting up a company are supported. In this context, Dr. Timo Steininger, founder of Quimedo, also applied and convinced the jury.
The idea of the start-up was born in 2019, namely to digitalise and simplify the transition of patients from inpatient treatment to rehabilitation/nursing or from home to care with the app Quimedo. Via the app, healthcare facilities enter free capacities as well as possible forms of treatment. Within a very short time, patients can be referred directly to the right place for optimal treatment. The digital networking is an enormous relief for the nursing staff. The start-up was founded in October 2020, with Prof. Dr. Thomas Geiß and Prof. Dr. Christian Rester from the Faculty of Applied Health Sciences supporting the team throughout the entire start-up process. Quimedo is based in Deggendorf with founder Dr. Timo Steininger, co-managing director Stefan Klein and four employees. They use the coworking space of the start-up centre at ITC1, where Thomas Keller (managing director of ITC1) is a strong partner. An important factor of the app is user-friendliness. Therefore, the platform should also be put through its paces. Students of the Health Informatics degree programme agreed to check the usability of the Quimedo app during the test phase. In January 2021, the time had come - the app could go live. Since then, it has been confirmed that the platform works very well. A large number of successful patient referrals have already been made. The Deggendorf Institute of Technology (DIT) is a valuable partner for Quimedo. DIT has been heavily involved in building up the network in the eastern Bavarian region. In the meantime, many joint projects are underway, such as AI in care. Founder Dr Timo Steininger himself will be head of the practical nursing department at the Faculty of Applied Health Sciences from 1 April 2021. One of Steininger's goals is to dovetail science and Quimedo in the long term.
Bild (StartUp Campus): Quimedo founder Timo Steininger is delighted about winning second place in the Ideenreich competition.