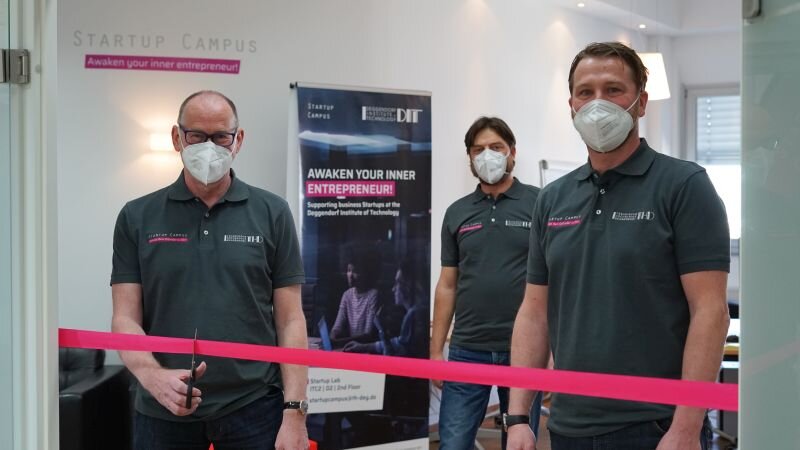 Best conditions
DIT opens Startup Lab
29.4.2021 | THD-Pressestelle
With over 300 square metres of new space in the ITC2 in Deggendorf, the Startup Campus of the Deggendorf Institute of Technology (DIT) is creating room for innovative minds who want to start their own business. An official inauguration of the Startup Lab took place digitally on 28 April. Here, all network partners of the Startup Campus as well as DIT employees had the opportunity to virtually visit the premises.
Among the invited guests was Minister of Science Bernd Sibler. He emphasised in the video conference: "With the Startup Campus, the Deggendorf Institute of Technology is further expanding its excellent environment for the start-ups of its graduates. As a central contact point closely networked with the region, it will bring young, creative and imaginative people together with attractive partners. Their founding spirit and courage are needed for our progress. The Startup Campus at DIT will also promote both and thus pave the way for promising technologies of tomorrow. On the part of the Free State, we are providing the optimal framework with the innovation offensive Hightech Agenda Bayern."
Together with the Startup Lab, the Startup Campus is a central contact point for all those interested in starting a business at the university. Through the rented space, the Startup Campus provides founders with a creative working environment. Teams that are currently being mentored and supported are allowed to use the office space, the co-working space and the seminar room. The Startup Lab is open for everyone to visit and exchange ideas.
The event also served as the first networking meeting with all companies, institutions and politicians involved in strengthening the start-up culture regionally. Special attention was paid to the network partners learning more about the Startup Campus and their current projects. Of course, the start-up teams are also part of this. A few young founders had the chance to present their start-up ideas to the audience. After all, the innovative teams in particular are the ones that really bring the Startup Lab to life.
Bild (DIT): University President Prof Dr Peter Sperber (left) officially opens the new Startup Lab. Also present are Prof Dr Thomas Geiß (front right), head of the Startup Campus at the Deggendorf Institute of Technology, and Prof Dr Wolfgang Dorner (back right).