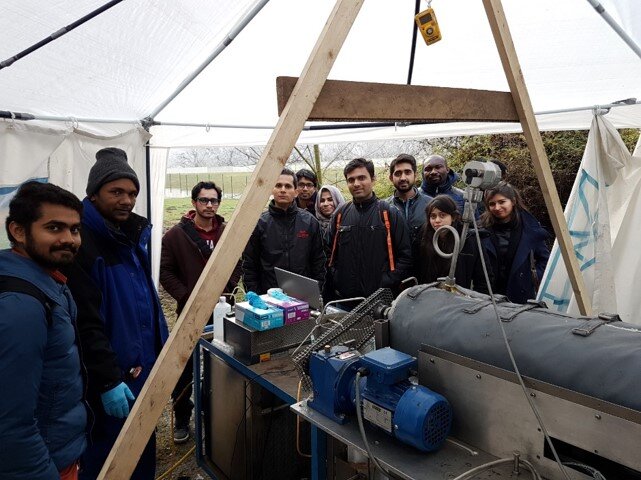 Helping to shape the energy transition – "StudyGreenEnergy" international study information day on 27 January
Helping to shape the energy transition – "StudyGreenEnergy" international study information day on 27 January
18.1.2022 | DIT Public Relations
Protecting the climate together, finding new solutions to technical questions about hydropower, wind and solar energy in a team and getting paid well for it? The #StudyGreenEnergy network is organising a digital study information day on 27 January at 4 pm to raise awareness of study programmes in the field of renewable energies. The European Campus Rottal-Inn (ECRI) of the Deggendorf Institute of Technology (DIT) will also be represented with two degree programmes.
With the energy transition, our society is facing one of the greatest upheavals since the beginning of industrialisation. The challenges, but also the opportunities for shaping this sector are enormous. For Prof. Dr. Matthias Huber, one thing is certain: "A degree in renewable energies provides the engineering skills to actively shape the national and global energy transition." As professor of Smart Infrastructure and Energy Economics at ECRI, he knows about the current challenges.
With the Bachelor Energy Systems Engineering and the Master Healthy and Sustainable Buildings, ECRI offers two future-relevant degree programmes. In addition to the typical engineering tools, both also teach holistic competences for sustainable change. And they are English-language and intercultural, with students from more than 80 nations worldwide. Prof. Dr. Tobias Bader teaches Sustainable Energy Systems and Technology Management at ECRI and knows: "An understanding of innovative key technologies together with competences for sustainable development, such as systems thinking, strategic thinking or integrated problem solving are key competences for the global transformation of the energy system". These are precisely the competences that ECRI teaches in its degree programmes tailored to sustainability, thus preparing students for an attractive job market and solving the pressing challenges of time.
At the international study information day of the "StudyGreenEnergy" network, Volker Quaschning, among others, will give a lecture on climate change and today's tasks for engineers. Alumni will give insights into their experiences at the universities. In break-out sessions, participants can also get in touch directly with the various universities, ask questions or take part in virtual lab tours. The free virtual event will take place on 27 January at 4 pm. For more information and registration, please visit:
The #StudyGreenEnergy network is made up of members of the university group of the German Solar Energy Society (DGS). In addition to ECRI, the following universities are involved: Düsseldorf University of Applied Sciences, Ingolstadt University of Technology, Kassel University, Erfurt University of Applied Sciences, Stralsund University of Applied Sciences, OTH Amberg-Weiden, Nordhausen University of Applied Sciences, Südwestfalen University of Applied Sciences, TH Aschaffenburg, Hamm-Lippstadt University of Applied Sciences, Environmental Campus Birkenfeld, Osnabrück University of Applied Sciences, HAW Hamburg, Münster University of Applied Sciences, Ruhr West University of Applied Sciences, Bern University of Applied Sciences, Biberach University of Applied Sciences and many others.
Bild (ECRI /DIT)): At ECRI, students are already learning on field trips how the energy transition is being shaped in practice on site.