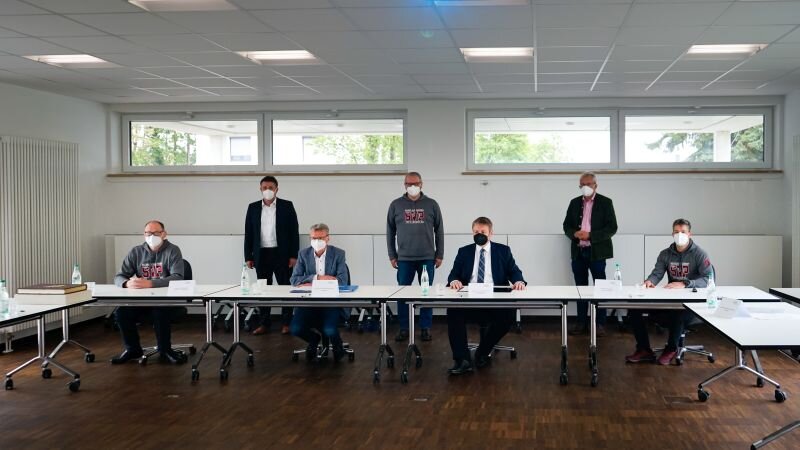 Press conference
First academic education institution for the district of Straubing-Bogen
14.5.2021 | THD-Pressestelle
In Oberschneiding in Lower Bavaria, German inventive talent will meet American market management in the future. The Deggendorf Institute of Technology (DIT) has found a location there for its world-leading Silicon Valley Program and will establish the Bavarian Innovation and Transformation Centre (BITZ) on the grounds of the Alte Spenglerei. Bavarian Minister of Science Bernd Sibler and Member of the State Parliament Josef Zellmeier announced on Wednesday, 12 May that funding from the Free State of Bavaria amounting to three million euros will flow into the centre over six years.
Science Minister Bernd Sibler emphasised: "Rooted in the homeland and internationally networked: The BITZ fits perfectly into the modern university landscape and integrates perfectly into the structure of DIT. With the core of the Silicon Valley Program, we are creating a new Bavarian start-up and scaling culture. Here in Oberschneiding there will be a high-calibre course offering with exclusive company visits in the USA, but also at branches of Bavarian companies. I would like to further strengthen the forward-looking field of 'entrepreneurship' in the Bavarian university landscape. Especially in the up-and-coming regions of Lower Bavaria, such offers fall on fertile ground."
Professor Peter Schmieder, scientific director of the BITZ, illustrated how closely connected Lower Bavaria will be with Silicon Valley in the future with a live link to Santa Clara University in California during the press conference. Santa Clara University has been a permanent partner of the Silicon Valley Program for years. BITZ Oberschneiding is thus not only the first institution of DIT in the district of Straubing-Bogen, but also of the American university. Anyone who has an invention or business idea in mind can learn here from and according to the American model how to make it successful for the market. The next round will start in June 2021.
Bild (DIT): Attending the first press conference of the new facility of the Deggendorf Institute of Technology in Oberschneiding: from left: Prof. Dr. Peter Sperber, President of the DIT, Oberschneiding's Mayor Ewald Seifert, Bavarian Minister of Science Bernd Sibler, Head of the Silicon Valley Program Peter Schmieder, MdL Josef Zellmeier, District Administrator Josef Laumer and Silicon Valley Program Manager Alexander Dorn.