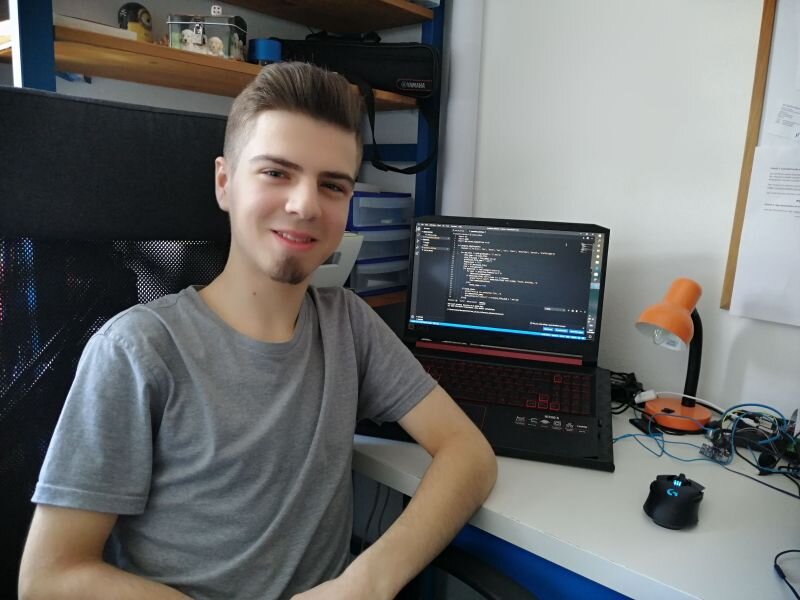 Early Studies in Artificial Intelligence
Pupils study at the Deggendorf Institute of Technology
19.5.2021 | THD-Pressestelle
Tamas Nemes attends the grammar school of the Regensburger Domspatzen. The 17-year-old is interested in studying Artificial Intelligence (AI) at the Deggendorf Institute of Technology (DIT). That's why he is currently taking the course Algorithms and Data structures in the so-called early studies programme there.
"In order to better understand the algorithms underlying AI, I started an early study programme in March," Nemes reports. The secondary school student benefits from this special offer at DIT for pupils: "The lectures are highly interesting. And working independently on the associated tasks is a lot of fun for me." Previous knowledge of computer science was not required for participation. The 16-year-old pupil Anna Daiser is also convinced by the early study programme. The early study programmes was introduced for highly talented pupils in high school. While they are studying for their A-levels, they can already participate in University lectures in different study fields. She appreciates that the lectures are well structured and that "the content is conveyed in an understandable way." Digital teaching has also opened up completely new possibilities for the early study programme, reports lecturer Prof Dr Patrick Glauner: "My course is now taken by interested people from all over Germany. We couldn't reach them at all before." Another example is Christian Normann, who did the early study course from his home in Rheinland-Pfalz. He describes his experience as follows: "Last semester I had taken the Computer Vision course. The accompanying robotics project was very educational and I enjoyed it a lot." Incidentally, the application deadline for the winter semester 2021/2022 at DIT is currently open, until 15 July. From 1 October, prospective students such as Nemes, Daiser or Normann will be able to train as AI experts in seven semesters. For this purpose, DIT offers an AI Bachelor's programme, optionally in German or English. Participants in the DIT early study programme will then have a good idea of what to expect at the university. Enquiries about early study can be directed to the DIT STEM team at fruehstudium@th-deg.de. More information on the AI degree programmes can be found at www.th-deg.de/en/ai. If you have any questions about the AI degree programmes, Prof Glauner will also be happy to answer them directly at patrick.glauner@th-deg.de or +49 991 3615 453.
Bild (private): Tamas Nemes implementing algorithms.