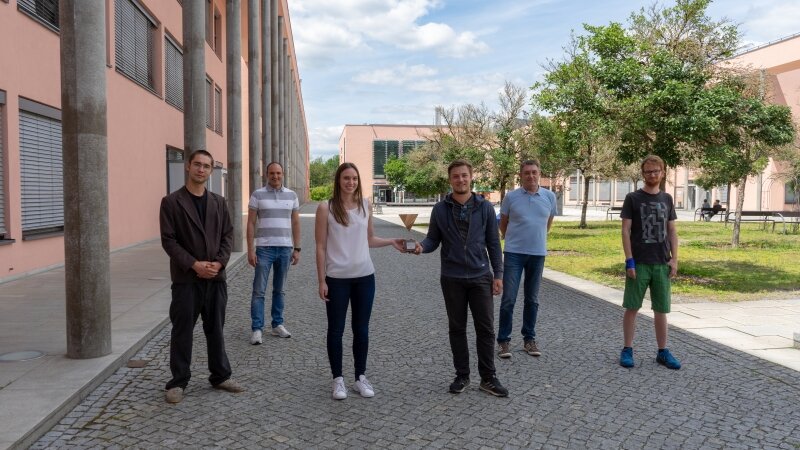 Special "Democracy" award for documentary film "Neighbours"
Awarded again: Film project called "Neighbours"
21.7.2020 | THD-Pressestelle
The documentary film "Neighbours - 5 Encounters with Residents of Ankerzentrum Deggendorf" ("Nachbarn - 5 Begegnungen mit Bewohnern des Ankerzentrums Deggendorf" in German) by Deggendorf Institute of Technology's (DIT) Media Production master students has been awarded at the Bavarian Children & Youth Film Festival. All eight winning films were announced on Saturday. "Neighbours" received the special award "Democracy" endowed with € 500. Patroness of the festival founded in 1989 is Carolina Trautner. the Bavarian Minister for Family, Labour and Social Affairs.
Since January 2015, there has been an initial reception facility in Deggendorf for asylum seekers. In 2018, it was converted to what is called an anchorage centre. The filmmakers of the master's programme wanted to know who the people are who live there. In cooperation with the Caritasverband for the Landkreis Deggendorf e.V. they have had conversations with the residents about their lives. This resulted in a video project under the direction of Prof Jens Schanze. The 33-minute film from 2019 consists of five short portraits. Due to the award of the Lower Bavarian Youth Film Prize 2019, the documentary qualified for the Bavarian Children & Youth Film Festival.
The jury there said: "The award for democracy goes to a film which caused a long discussion among the jury; perhaps it was created to do exactly that. It's a film that needs to be dealt with in dialogue, which needs the discussion and is the initiator of thought and because it does this, we find it worthy of an award and an important contribution to democracy." The award ceremony was held last week in a small round on the campus in Deggendorf. During the encounter week (Woche der Begegnung) in October 2020, "Neighbours" can be seen again at the Deggendorf cinema.
The special award "Democracy" of the Bavarian Children & Youth Festival goes to Deggendorf.