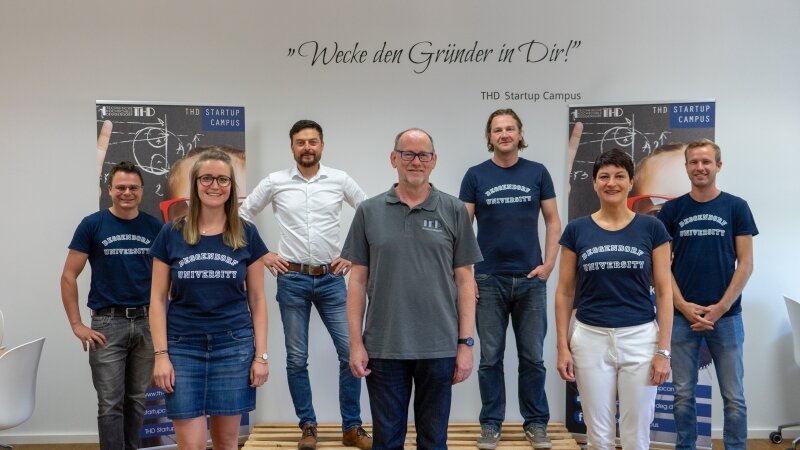 Support for business start-ups
Next level for start-up culture at the university
30.7.2020 | THD-Pressestelle
The Deggendorf Institute of Technology (DIT) is intensifying its foundation work. The thematic focus on start-up and start-up culture is to be expanded and the range of courses on offer, which up to now has mainly addressed students, is to be expanded. The team of DIT's Startup Campus has had almost € 900,000 at its disposal since April. The Federal Ministry of Education and Research supports the university's plan to promote entrepreneurial talent.
The Startup Campus team wants to create more start-ups and thus up to 1000 more high-tech jobs in the Deggendorf area in the next 10 years. Alfon Weinzierl says: "The work of the Startup Campus has so far been a cross-sectional function for many players in addition to their actual jobs and has been performed on top. With the successful project award we now also receive the necessary means and resources to take the DIT's start-up culture to the next level". According to Weinzierl, in comparison to the current situation, the Startup Campus will not only supervise the start-up and entrepreneurship teaching and student teams, but will also become a university-wide institution that is a contact point and home for founders at a central location and radiates into the rural region via the Technology Campuses. In future, the team will also be available to employees of the university. True to the motto "Wake up the founder in you!", everyone is invited to contact the Startup Campus team and develop their founding idea.
Many individual measures will now be implemented step by step. As a first necessary step, the team of DIT Startup Campus sees the development and renting of suitable premises close to the university to create a Startup Lab. Furthermore, it is planned to initiate a university incubator programme for the pre-foundation phase for university members, with which the university can then also financially support projects.
Since 2002, the university has successively built up its profile as a start-up university. Over the years, numerous successful business start-ups, activities and qualification offers have resulted, so that in 2017, the team of Startup Campus was finally formed from the Institute for Business start-ups of DIT as a central contact point. In the recently published WURI ranking, the university has attracted positive attention, particularly because of its start-up culture. The university can further strengthen its activities through the StartupLab@FH funding measure "Entrepreneurial thinking and scientific entrepreneurial spirit - freedom for research and start-ups at universities of applied sciences" of the Federal Ministry of Education and Research.
Bild (DIT): Kick-off meeting with the university's president. From left to right: A. Weinzierl, C. Probst, Prof Dr W. Dorner, President Prof Dr P. Sperber, Prof Dr T. Geiß, M. Heim, A. Böckl