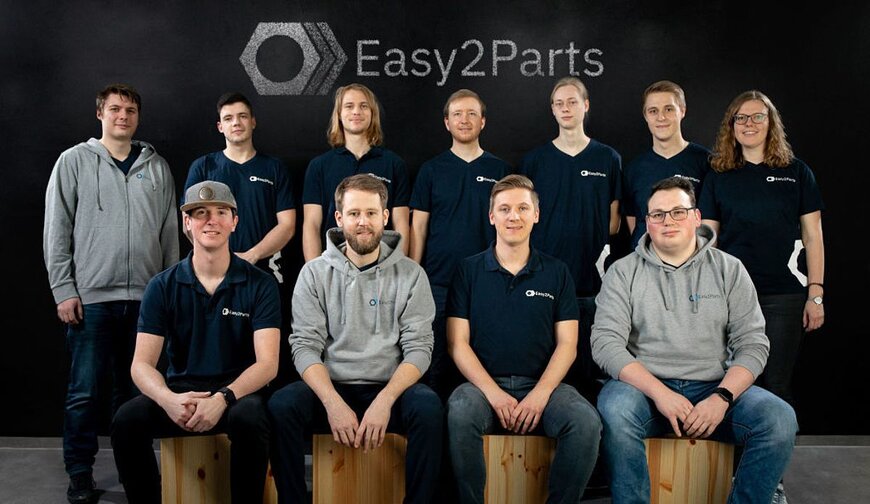 News from Easy2Parts
Further growth secured – Software start-up from Deggendorf succeeds in seed financing
7.10.2020 | THD-Pressestelle
The start-up "Easy2Parts" from the ranks of the Deggendorf Institute of Technology (DIT) is on course for success. After 18 months as a young entrepreneur, the founding team convinced the BayStartUp investor network. Several investors are providing funding because they believe in the idea of "Easy2Parts". The team of the university's start-up campus has supported the start-up from the very beginning and is eagerly following the next steps.
A supply chain platform that intelligently links buyers and suppliers and automates parts procurement in industrial production. That is the idea behind "Easy2Parts". The founders Robert Hilmer, Sebastian Freund and Michael Neuhauser came together through the university. Robert Hilmer studied business management while working part-time, while Sebastian Freund first studied industrial engineering and then went on to study general management in an MBA programme. Michael Neuhauser is a graduate of the Applied Computer Science programme. The team of the DIT Start-Up Campus, especially Prof Dr Thomas Geiss, offered a contact point and personal support. Together they developed the business model for "Easy2Parts" and prepared an idea paper for the application for their first financing package, the EXIST start-up grant. With the start-up grant, a steep upward trend began in March 2019. Five other employees are now part of the "Easy2Parts" team, they have found their office space in the ITC1 start-up centre in Deggendorf and they have successfully completed the Business Plan Competition "Ideenreich 2020". Seed financing, i.e. start-up capital from companies that see the future potential of Easy2Parts, will enable Robert, Sebastian and Michael to get off to a completely different start. They can also count on the support from DIT. The founding team was and is supported by two professors of DIT as mentors: Prof Dr-Ing Ludwig Gansauge, who has been researching the networking of manufacturing companies for more than 20 years and also has extensive knowledge and networks in mechanical engineering. And Prof Dr Herbert Fischer, who supports the founding team with regard to software development, ERP systems and data protection, among other things.
Bild (Easy2Parts): The Easy2Parts founders Michael Neuhauser, Robert Hilmer and Sebastian Freund (from left to right) have already built up a team of employees. Now the company is planning further growth.