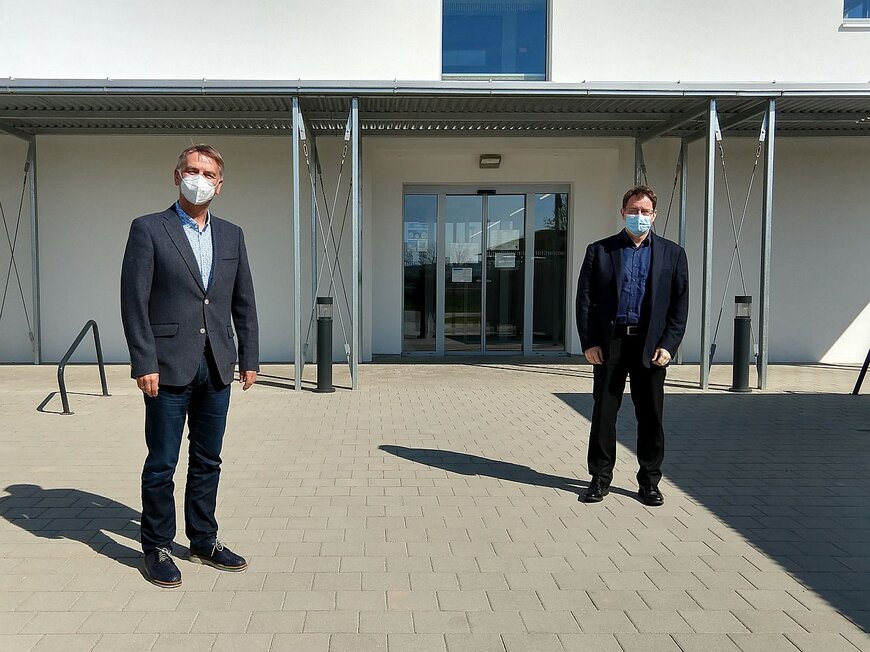 Cooperation with FOSBOS Pfarrkichen successfully continued
Cooperation with FOSBOS Pfarrkirchen successfully continued
28.5.2021 | THD-Pressestelle
On the occasion of the first anniversary of the cooperation between the European Campus Rottal-Inn (ECRI) and the FOSBOS Pfarrkirchen, Campus director Prof Dr Horst Kunhardt and Headmaster OStD Wolfgang Schneider met for an exchange. At the meeting, they reflected on the implementation of the goals set out in the cooperation agreement, summed it up and worked out further possibilities for cooperation.
Originally, attendance events were planned within the cooperation, such as mutual observation by teachers and lecturers, as well as cultural events. Since these cannot take place due to the prevailing pandemic, the meeting focused on the time after Corona. Headmaster Schneider and Campus director Kunhardt pushed for joint projects such as a poetry slam, language events or taster and trial lectures. After the pandemic, these are to become a permanent part of the cooperation and established as regular measures. Both partners are already looking forward to even more intensive cooperation.
The cooperation between ECRI and FOSBOS is intended to promote pupils and students in the STEM field. In addition, the cooperation between the two institutions will intensified and promoted in educational and professional terms. Intercultural exchange and the improvement of foreign language skills is an important goal of the cooperation agreement, along with the reduction of the "dropout rate" in the degree programmes.
OStD Schneider expressed his gratitude at the meeting for the uncomplicated, friendly interaction. Thanks to the use of the lecture rooms at ECRI, the FOSBOS classes could be held smoothly even during the pandemic.
Bild (DIT / ECRI): Prof Dr Horst Kunhardt and OStD Wolfgang Schneider exchanged views on further cooperation.