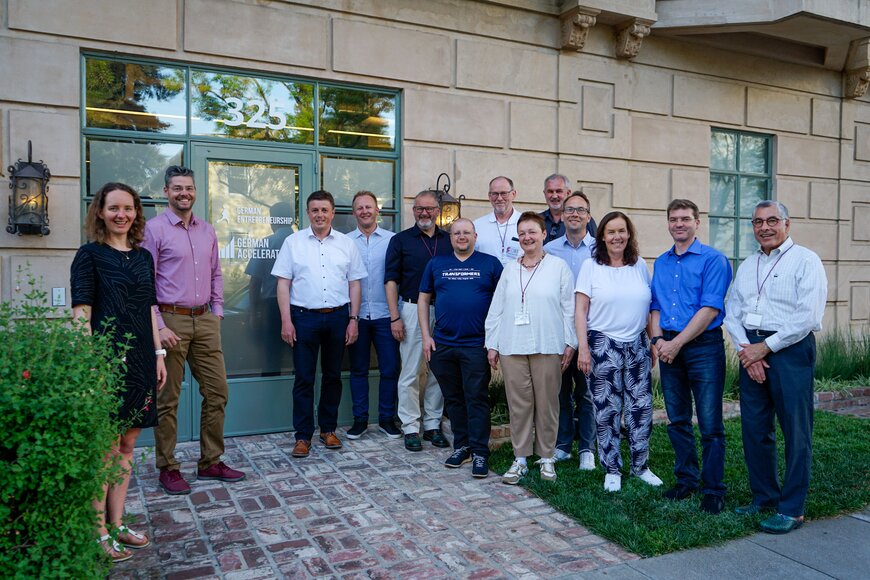 With DIT to the Silicon Valley
A real opportunity for German start-ups
14.4.2022 | DIT Public Relations
Start-ups from Lower Bavaria put their business models to the test last week in Santa Clara, California. They took part in the Silicon Valley Program of the Bavarian Innovation and Transformation Centre (BITZ) in Oberschneiding, which is part of the Deggendorf Institute of Technology (DIT). They presented their ideas in front of Silicon Valley investors and learned how experts assess their chances on the global market. The trip to America is the conclusion of the course, which lasts several months, and a chance for founders to grow internationally.
According to Prof. Peter Schmieder, founder of the Silicon Valley Program, the 2022 teams were very successful in convincing the investors: "The investors have made intensive contact with all six teams. Some already have up to three follow-up appointments. Some investors will still travel to Germany in April to already invest in substantial development of the teams. An accolade". To get there, the six teams prepared for several months. During the one-week stay at the university in Santa Clara, the start-ups were specifically prepared for the planned investor pitches one last time. Each team had only ten minutes to convince the investors to invest in a German start-up. According to Peter Schmieder, the eight months of the Silicon Valley Program were no picnic for the teams, especially not the incredibly intensive final week: "We meet professional experts and investors at the end. They only respond to teams that are best prepared and highly professional". For each founding team, there were therefore intensive individual training sessions with their American mentors as well as guest lectures by top-class speakers on entrepreneurship, start-ups, fund raising, venture capital and digital marketing. Company visits to Google, Zollner, Jabil and NVIDIA made the Silicon Valley experience perfect.
The Silicon Valley Program has existed since 2014 as a cooperation between DIT and Santa Clara University, which is located in the heart of Silicon Valley. This has resulted in an impressive network to help German start-ups achieve international success. Information about the programme and the target groups can be found on the DIT website: https://www.th-deg.de/silicon-valley-school. Since 2021, the programme has been located in Oberschneiding at the BITZ in order to grow further. A delegation from Oberschneiding therefore also took part in the trip with great interest: Ewald Seifert, First Mayor of Oberschneiding, representing the district, Konrad Schmerbeck, Second Mayor of Oberschneiding, and Christian Schambeck, Managing Director of Schambeck holding GmbH.
Bild (DIT): The Silicon Valley School team and delegations from the Deggendorf Institute of Technology and Oberschneiding accompanied the start-ups to the pitches. Here in Palo Alto, California.