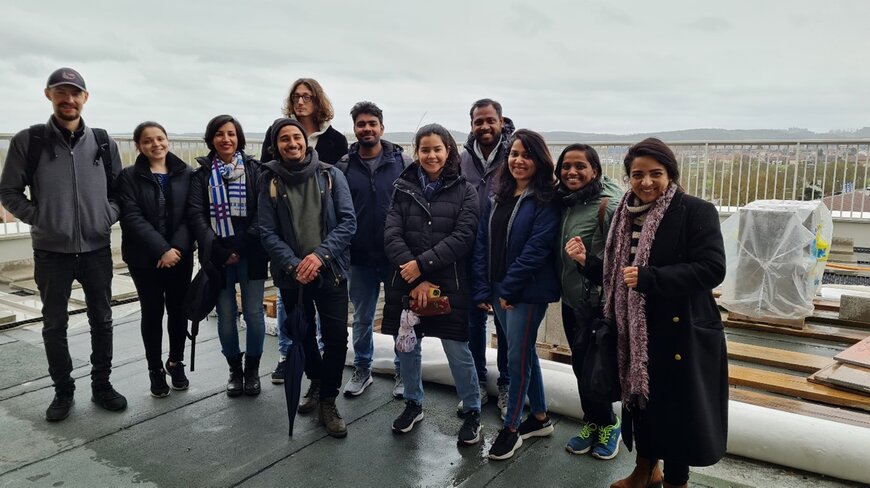 Up on the rooftops! Students explore construction site of new student residence
Up on the rooftops! Healthy and Sustainable Buildings Programme explores construction site of new student residence
3.5.2022 | DIT Public Relations
After a long time of remote teaching due to corona the European Campus Rottal-Inn's (ECRI) Healthy and Sustainable Buildings Master of Engineerig Programme resumed excursions. The first one for this semester led the students on the rooftop of the student residence at Alois-Gässl-Straße in Pfarrkirchen. The participants got a first hand impression of the building and had the chance to see the progress of the constructions.
During the excursion to the student residence the participants learned more about the construction materials used, which play an important role when constructing a sustainable building. They also gained some insights concerning the firefighting systems installed in the residence and they learned about the differential pressure method. This test simulates the wind load on a building on a stormy autumn day at wind strength 5 to see if the building leaks air. The results of this test show how well constructed the building shell is. The students not only saw how the things they learn in theory at ECRI are applied at a real construction site, but they were also rewarded by a beautiful view of the city of Pfarrkirchen as they had the chance to go up the rooftop of the new student residence.
For students of Healthy and Sustainable Buildings excursions are an integral part as these offer them the possibility to see real applications beside the coursework taught inside classrooms. The programme will further organise more excursions in different parts of Germany including museums, construction companies and construction sites.
Bild (DIT / ECRI): The students of Healthy and Sustainable Buildings on the rooftop of the new student residence in Pfarrkirchen during the excursion together with Lab Engineer Neveen Soliman (far right) and Sebastian Doppler (5. from left) from ECRI.