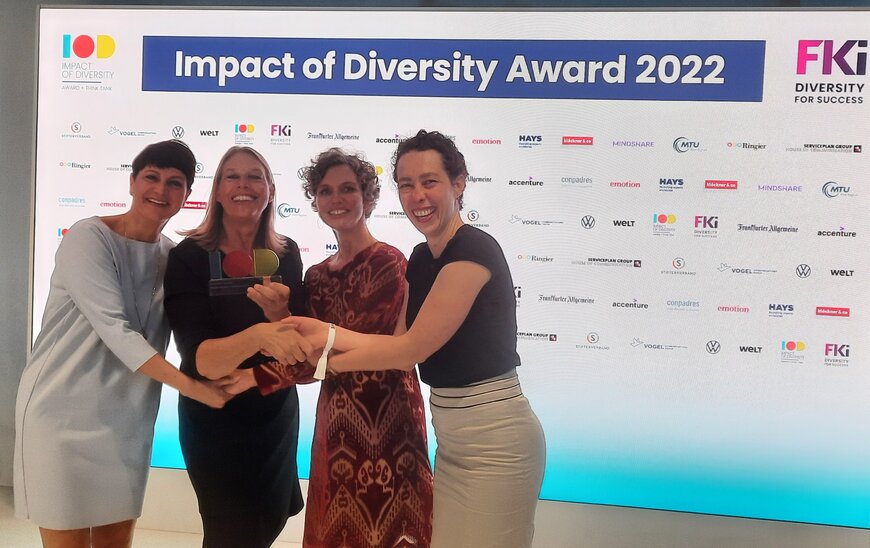 Finalist in the impact of diversity award
University among the finalists of the Impact of Diversity Award
10.5.2022 | DIT Public Relations
On Thursday, 5 May, the Impact of Diversity Award was presented at the DRIVE. Volkswagen Group Forum in Berlin. The Deggendorf Institute of Technology (DIT) made it into the top 3 in the University Award category with its project "In 80 Nations around the World", beating off numerous competitors.
With the submitted project, the university portrays students and employees from a total of 80 nations who study and work at the international European Campus Rottal-Inn (ECRI) in Pfarrkirchen. Special emphasis is placed on celebrating similarities and learning to love differences. This not only demonstrates the diversity of ECRI, but also actively shapes interculturality and internationality in the region. The university is supported in this by the Rottal-Inn District Office.
In addition to DIT, the Anti-Discrimination Office of the University of Marburg made it to the finals in the University Award category. The winner was the State Conference of Women's and Equal Opportunities Representatives at Bavarian Universities (LaKoF) with its Bavaria-wide project "Become a female Professor".
A total of over 200 submissions were received for the Impact of Diversity Award. In the first step, the public voting, over 50,000 people took part. Afterwards, 48 jurors from science, business, associations and initiatives selected the winners. The Impact of Diversity Award is presented to 14 award winners who have made outstanding contributions to the topics of diversity and inclusion.
Bild (DIT / ECRI): DIT representatives Martina Heim (left) and Miriam Bleck (right) with the winners in the University Award category, Prof. Dr. Brigitte Kölzer (2nd from left) and Prof. Dr. Elke Wolf (2nd from right).