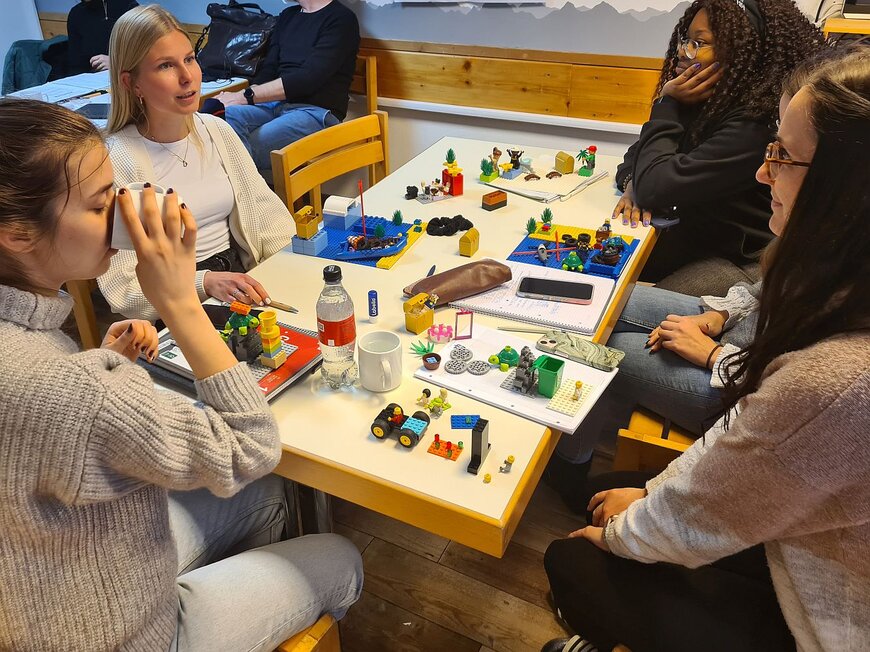 Cooperation with Lucerne University of Applied Sciences and Arts
Strengthening the tourism industry with creativity and innovation - cooperation with Lucerne University of Applied Sciences and Arts
13.5.2022 | DIT Public Relations
The tourism industry has suffered greatly in recent years from the restrictions imposed by the pandemic. Now creative solutions are needed to strengthen the industry and breathe new life into it. At the European Campus Rottal-Inn (ECRI), students are therefore working on innovations in health and wellness tourism together with the Lucerne University of Applied Sciences and Arts (HSLU). The kick-off was a Design Thinking Challenge with students from both universities. The resulting tourism innovations were presented at a final event on 12 May at the Pfarrkirchen campus.
For the two-and-a-half-day kick-off of the cooperation, ECRI students from Health & Medical Tourism met students from Business Administration with a focus on Tourism from the Lucerne University of Applied Sciences and Arts in Oberstorf at the beginning of April. The aim was to develop innovations in health and wellness tourism in small teams in a design thinking challenge. For this purpose, the students were mixed into eleven groups, so that students from Pfarrkirchen worked together with students from Lucerne.
Under the direction of Prof. Dr. Georg Christian Steckenbauer and Prof. Dr. Marcus Herntrei on the ECRI side and Prof. Roland Lymann and Lisa Fickel of the HSLU, the students first gained insight into market and trend analyses. These formed the basis for the work in the groups. During the Design Thinking Challenge, the teams were to develop innovative ideas from which the tourism industry can benefit. Creativity and knowledge were in demand. Already during the kick-off, ideas emerged from areas such as improving the quality of sleep, nutrition and well-being, emotional health as well as gamification for fitness.
In joint lectures, the ideas and innovations were expanded by students from both universities. In the end, prototypes were to be developed from the creative proposals. At the final presentation, the groups presented these together with their concepts and presented the work of the past weeks to the professors from Pfarrkirchen and Lucerne. In the final step, the prototypes including concepts will be submitted by the students to the "Shark Tank of Wellness Student Competition". This is a global competition for students. Of the international submissions, three teams will be shortlisted and invited to the "Global Wellness Summit". This will take place in Tel Aviv in November. There, the finalists will be allowed to present their innovations to the investors, the so-called Wellness Sharks.
Bild (DIT / ECRI): Small groups, creative ideas and Lego: This is how the first innovations for the tourism industry were created in the Design Thinking Challenge.