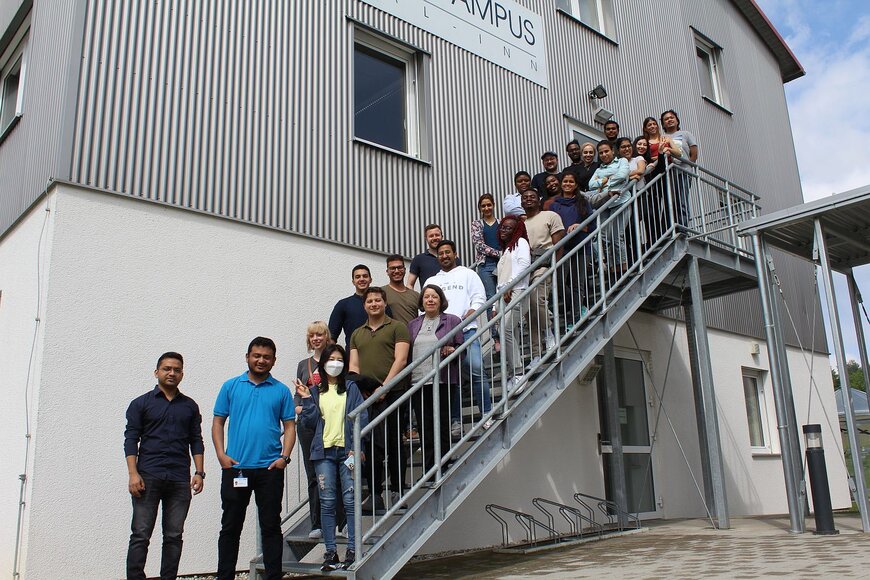 Summer school in Pfarrkirchen
First cross-border Summer School in Pfarrkirchen
27.5.2022 | DIT Public Relations
As part of the Master's programme Global Public Health at the European Campus Rottal-Inn (ECRI), the first cross-border Summer School took place in Pfarrkirchen in May. This brought together students from all over the world and from different universities for a fortnight at ECRI and culminated on 25 May.
The Summer School is an integral part of the new joint Master Global Public Health under the direction of Prof. Dr. Thomas Spittler, whose lectures only take place online. At the Summer School kick-off on 9 May at the Pfarrkirchen campus, the students met for the first time outside the virtual world. The joint Bavarian lunch provided an opportunity to get to know not only fellow students but also the local culture. The subsequent guided tour of Pfarrkirchen gave the students a first impression of the region. In addition to the cultural programme, excursions and professional topics were not neglected during the Summer School. During a tour of the DigiHealth laboratory on campus, the students got to know the equipment and tried it out themselves in experiments. At FotoFinder Systems GmbH in Bad Birnbach, they gained insights into the field of telemedicine and concrete areas of application. The Summer School was rounded off by a joint excursion to Deggendorf to the DIT campus, which ECRI is part of as faculty.
Most of the participants of the Summer School were in Germany for the first time and gained professional, personal and cultural experiences during the past two weeks that helped them broaden their horizons. This international approach is an essential part of the Master's programme in Global Public Health.
Bild (ECRI / DIT): Participants of the Summer School for the first time at ECRI in Pfarrkirchen.