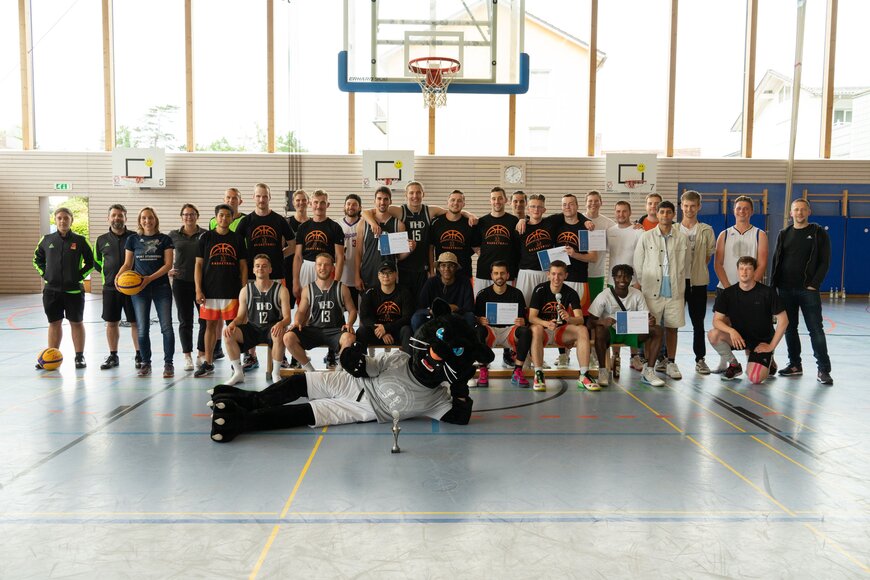 Bavarian University Basketball Cup
DIT basketball players on the podium
15.6.2022 | DIT Public Relations
The basketball players of the Deggendorf Institute of Technology (DIT) were finally able to shoot baskets again on 9 June after the forced break due to corona. At this year's Bavarian University Cup, equivalent to the Bavarian championship for colleges and universities with up to 10,000 students, two teams each from DIT and the Weihenstephan-Triesdorf University of Applied Sciences competed against three teams from the Bundeswehr University in Munich. In the end, the DIT players secured one of the places on the podium as third place.
The tournament was won by the Weihenstephan basketball players. They beat the Bundeswehr University Munich in an exciting final game and thus secured the title. Spurred on by their own good performance, the DIT players are already looking forward with full motivation to the upcoming university tournament in autumn. The DIT squad included Louis Keber (ASV Cham), Marco Degel, Tizian Podlech, Tristan Hamala, Jakob Kern, Ahmed Abdaal and Julian Hölzl.
The organisation of the tournament was taken over by DIT University Sports Officer Carolin Stadler and her colleague Laura Nowak, together with the head of the Master's programme in Applied Sports Science, Prof Richard Latzel, and tournament director Linda Zeindl. It was great that the city of Deggendorf had made it possible to use the triple gymnasium of the Comenius High School. The Deggathletes ASW, the Deggendorf sports students club, took care of the physical well-being.
Bild (DIT): DIT basketball players in 3rd place.