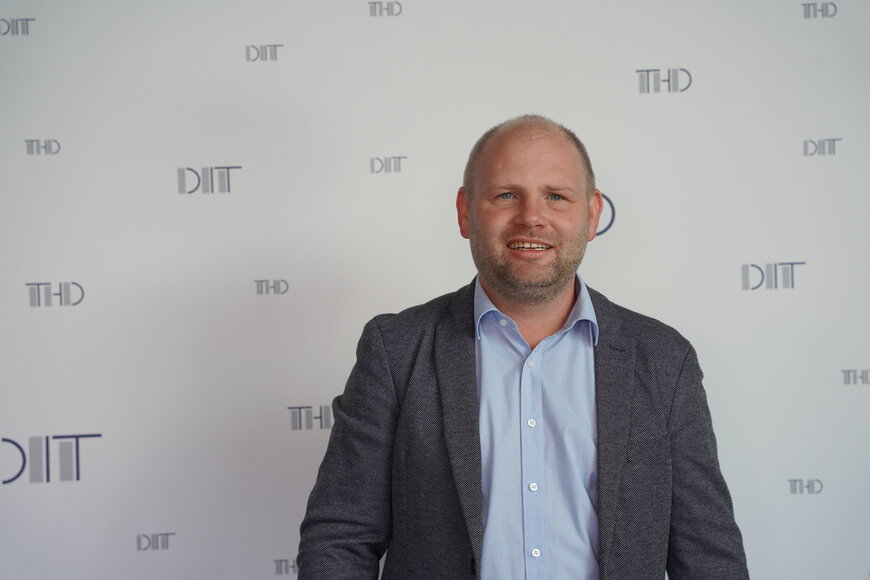 Appointment Alexander Siebel
Specialist for Building Physics and Construction
14.6.2022 | DIT Public Relations
For the development and implementation of the new Bachelor's degree programme "Building Products and Processes" (BPP) at the European Campus Rottal-Inn (ECRI), further expertise has been gained. Dr Alexander Siebel, an expert in building physics and construction, was appointed professor at the end of May. He will strengthen the team in Pfarrkirchen with immediate effect and will also play a key role in shaping the building physics laboratory at the campus.
"I chose the position in Pfarrkirchen because the Building Products and Processes degree programme is unique. Here, the interaction between teaching, practice and research is institutionalised and professionalised," says Prof Siebel and is please about his move to Rottal. His focus is on the optimisation of building materials and constructions with regard to their thermal and acoustic properties. Even before his appointment to Lower Bavaria, the renowned building physicist held a professorship for building physics at the Aachen University of Applied Sciences. From this position and his many years of practical experience, he has outstanding specialist knowledge. He would like to share this expertise with as many future BPP students on campus as possible.
In the next few years, the Building Physics Lab at the Pfarrkirchen site will also be established under his leadership. "This task represents a very special challenge for me. My team and I want to help ensure that the new degree programme is characterised by a pronounced theory-practice relationship in teaching and research," says the 43-year-old. Equally important to Siebel is the close cooperation with practical partners in the local construction industry. He would like to work intensively with them in the coming years. "It is very important to me to let the requirements from practice flow into the theory again and again and thus adapt the learning concepts to real needs. True to my motto: There is always something left to discover," Siebel explains. Fortunately, because innovative building materials will also play a huge role in the goal of minimising the CO2 footprint of our society. And the new BPP degree programme addresses precisely this issue. "We want to make a difference," says the professor, optimistic about his new task at ECRI and looking ahead with confidence.
Bild (DIT): Dr Alexander Siebel is the new professor of building physics and construction at ECRI.