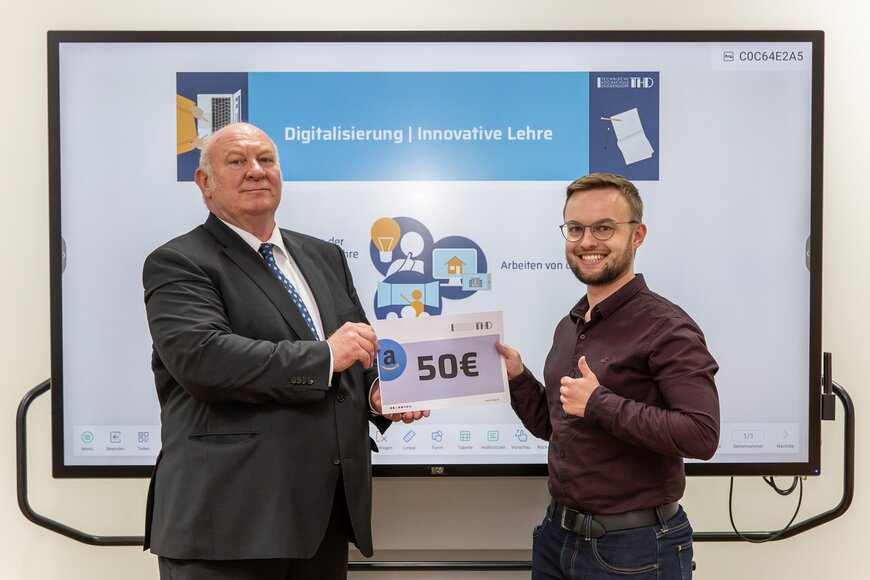 Student survey
Digital teaching at DIT
23.6.2022 | DIT Public Relations
How did DIT students do with digital teaching in the winter semester? The conclusion of an internal survey was that the challenges were big, but nevertheless well mastered. And digital teaching is here to stay.
With the aim of further improving digital teaching at DIT, an online survey took place after the winter semester. All students at DIT were invited to give their opinion anonymously. In the end, more than 1,500 students voted. The quality of teaching at DIT was given an overall grad of 2.4. Compared to the first semester during the pandemic, the university was able to significantly improve the quality of teaching from the students' point of view. Prof Waldemar Berg, Vice President for Teaching at DIT, knows the importance of this: "The quality of teaching is our backbone. To act innovatively and flexibly, our strength – thus the balancing act succeeded in pandemic times."
The past autumn and winter were tough. Study conditions were once again under the strong influence of the pandemic. Short-term changes in the framework conditions were the order of the day: 3G, then 2G with digital offerings for unvaccinated students, shortly followed by switching to only digital teaching for everyone. It has now been established: the better students feel looked after by the teaching staff, the higher the quality in online studies is experienced. The same applied to the possibility of interaction. Being able to exchange ideas during a lecture, to learn with each other, has a great influence on a positive assessment of the teaching.
And where should it go in the future? The students appreciate the advantages of digital teaching and specifically want a sensible mix of digital and face-to-face teaching. On-site teaching at DIT should predominate. There is also a demand for more lecture recordings, followed by hybrid teaching (online & on-site teaching at the same time), live online lectures and the increased use of DIT's learning management system. What becomes clear is: It is becoming increasingly important for students to gain more flexibility for their daily study routine. The "why" is gaining in importance – why which medium or which time makes sense at the moment.
A voucher was raffled among all participants, which Johannes Klier was able to secure. When he won, he revealed why it was important for him to take part in the survey: "Digital teaching will remain an issue in the future. That's why it's important to strive for improvements together." DIT's digital teaching offer, also in combination with face-to-face teaching, is constantly being improved. Currently, the Digitalisation & Innovative Teaching department is building a hybrid training lab for lecturers. In addition, DIT wants to provide students with even better support for self-organised learning.
Bild (DIT): Lucky winner – Prof Waldemar Berg is happy with student Johannes Klier.