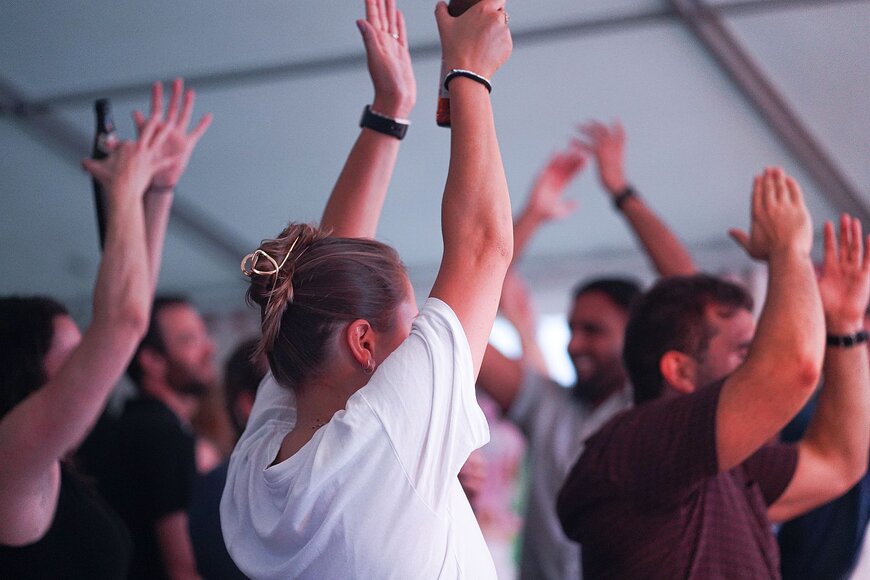 Summer fest 2022
Optical illusions, open labs and party at the European Campus summer fest
12.7.2022 | DIT Public Relations
On Saturday, 9 July, after a two-year break, the European Campus Rottal-Inn (ECRI) in Pfarrkirchen was finally able to organise a summer fest again. The event attracted both young and old visitors, students and locals alike, who all got their money's worth.
After the official welcome of the guests by Dean Prof. Dr. Georg Christian Steckenbauer and the 2nd Mayor of Pfarrkirchen, Hermann Gaßner, the young visitors immediately joined the Children's University. The topic this time was optical illusions and why we see what isn't. The next generation made the human kicker unsafe and tried their luck against the 1st team of TuS Pfarrkirchen e.V.. At the Spielecafé der Generationen, everyone played together in colourful teams.
Those who wanted to learn more about the campus could watch exciting experiments at the Open Labs, ask the lab engineers questions and also try out experiment themselves. In the two campus tours, visitors not only learned more about ECRI, the students, the focal points and the history of the international campus in Pfarrkirchen, Lower Bavaria, but also stopped off at all the labs, the library and the cafeteria. There, the physical well-being was well taken care of with international dishes and ice cream. Those who wanted a sweet dessert afterwards could choose from a variety of international cakes. The proceeds of the cake sale will be donated again this year to the Kinderkrebshilfe Rottal-Inn e.V.. The Lazy Cat provided various coffee specialities and aperitifs with its Catmobile.
In the evening, the ECRI band played, in a small line-up due to the upcoming exam period, and heated up the audience in the marquee. The student duo played a colourful mix of well-known songs that invited the audience to sing along. Afterwards, the band Pinja Daunen stepped it up a notch with a mixture of ska, rock and indie and made the tent shake. After a few encores and almost two hours of playing time, Pinja Daunen closed ECRI's Summer Festival 2022 with their last song. The students were so enthusiastic about the musicians that they spontaneously stormed the stage to take a photo together.
Bild (DIT / ECRI): Great atmosphere at the band's performance at the summer festival.