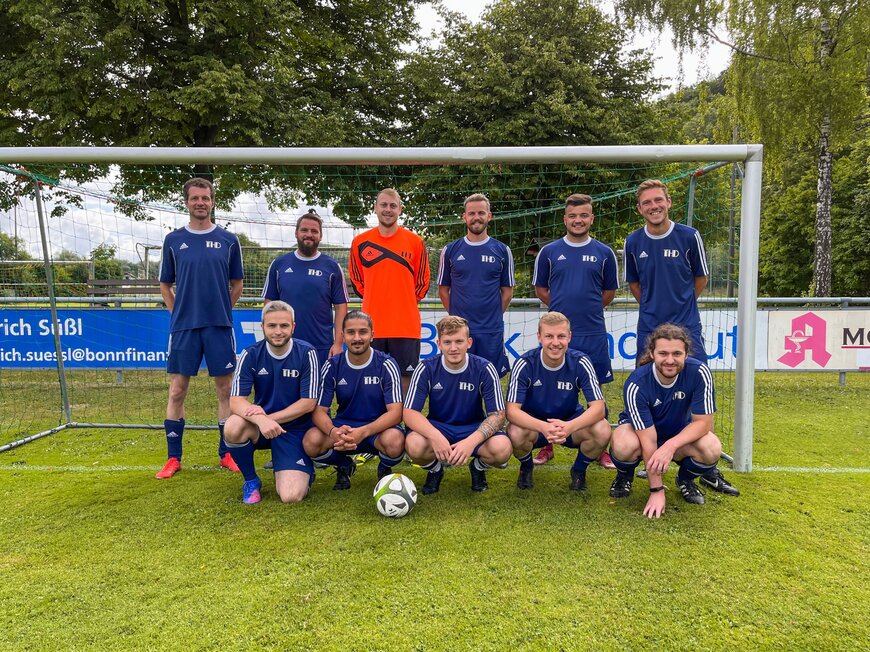 Football skills
DIT footballers win runner-up championship
13.7.2022 | DIT Public Relations
After two years of corona-related abstinence, the 43rd Football Championship of the Bavarian Universities of Applied Sciences (HAW) took place on 8 July. A total of ten universities sent the best footballers among their employees to the tournament in Landshut, this year's host.
Led by team captain Alexander Zitt, the DIT footballers fought their way to first place in one of two groups of five. In the semi-final match against the team from the universities of Kempten and Ansbach, the DIT players won 3:2 and thus secured their place in the final. There, they only narrowly missed a sensation in an exciting match against the men from OTH Regensburg. In the end, the Regensburg team deservedly won the match 5:3. Nevertheless, it was a bitter blow for the DIT team because they had managed to get the upper hand over the eventual tournament winners in the group phase with a 2-1 victory. Nevertheless, at the end of the day, the joy of winning the vice-championship and the shared title of top scorer for Christian Ebner prevailed.
A big thank you goes to the organisation team of the Landshut University of Applied Sciences. They had also provided a great supporting programme with various activities outside of the tournament. For example, the supporters of the DIT team who had travelled with them were able to prove themselves at the goal wall and score a goal or two. The all-round successful day was rounded off with a joint dinner and subsequent award ceremony in the canteen of Landshut University of Applied Sciences.
In keeping with the motto "After the game is before the game", all those involved at DIT agreed as soon as the final whistle blew to continue training together as part of the company sports programme in order to be able to play a good role again in the upcoming Bavarian University Football Championships.
Bild (DIT): The DIT team at the 43rd HAW Football Championship in Landshut.