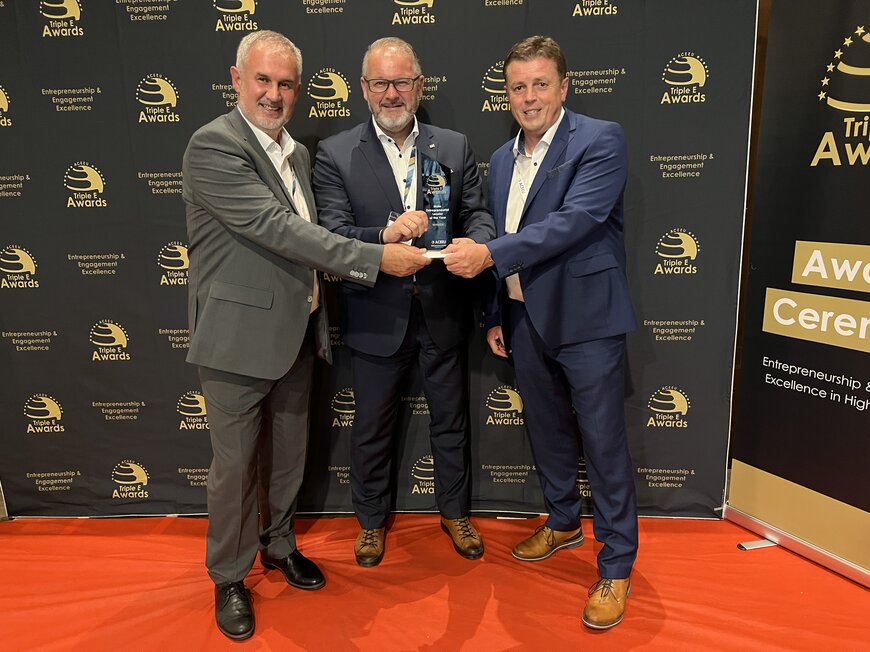 Big award for DIT
Schmieder wins Triple-E Award
14.7.2022 | DIT Public Relations
Prof Peter Schmieder was named "Male Entrepreneur Leader of the Year" in Florence on 28 June. For the head of the Bavarian Innovation Transformation Centre (BITZ) Oberschneiding, it is the reward for more than ten years of hard work in the field of business start-ups. Schmieder has thus made history with his Silicon Valley Program in Lower Bavaria and for the Deggendorf Institute of Technology (DIT).
As the best leader for founders and young companies in Europe has Prof Peter Schmieder accepted his winner's trophy when his name was called last by Prof Dr Thorsten Kliewe, Chairman of the ACEEU (Accreditation Council for Entrepreneurial and Engaged Universities). A top-class, 60-member jury had made the decision. "The competition was strong with renowned competitors from the other countries. Of course, I hoped so, but I still didn't think that my team and I would actually come out at the top in the end," Schmieder said, "unbidden" with joy about the Triple-E title. "This is an award for all of us in Oberschneiding and for the Silicon Valley School. It shows that we are on the right track." The three "E"s of the award, incidentally, stand for Entrepreneurship, Engagement and Education.
The Triple-E Award is intended to draw attention to a necessary transformation at colleges and universities in the European region. "We are very resourceful in Germany when it comes to new technologies. But when things work in the lab, that's often the end for us. We leave the marketing of such an idea to others and prefer to devote ourselves to new problems again," Schmieder explains the dilemma at our universities. It's different at the famous US universities. There, researchers are supposed to go a few steps further. The idea is to become a product, the product is to be scaled to large markets and thus develop benefits for many people. And, of course, profit for those who discovered, developed and brought it to the market. It is precisely this successful, American approach of the DIT Silicon Valley Program that trains professors and is the brand essence of the BITZ in Oberschneiding-
For Schmieder, winning the Triple-E Award is a great achievement: "Our Silicon Valley Program increases the entrepreneurial potential of regional business and management teams. And it does so through a scientifically based, continuous and accompanied process." And that is precisely what the programme has now been awarded for. For the DIT professor, the matter is clear. He wants the best of both worlds: "German ingenuity and Silicon Valley mindset."
Bild (DIT): Proud winners in Florence: Konrad Schmerbeck (Second Mayor of Oberschneiding), Prof Peter Schmieder and Ewald Seifert (Mayor of Oberschneiding) are happy about the European victory.