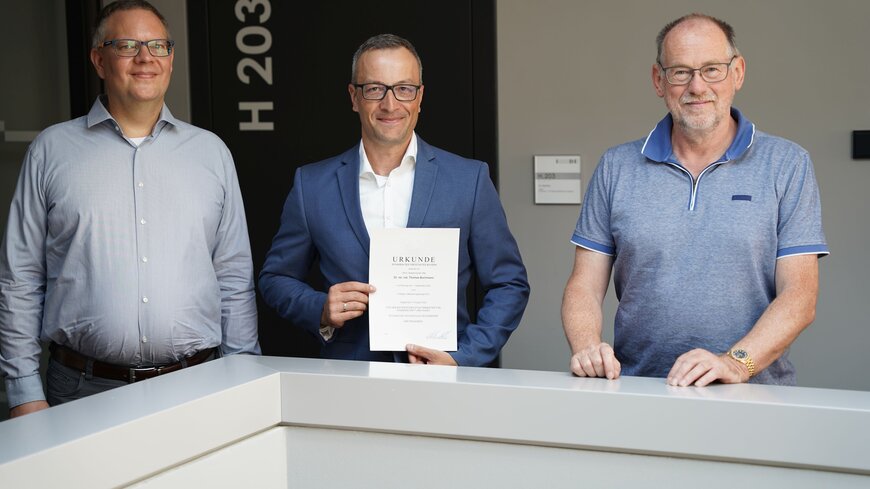 Appointment Dr. Thomas Buchmann
Software expert joins DIT
5.9.2022 | DIT Public Relations
On 1 September, another professorship was successfully filled in the Faculty of Applied Computer Science at the Deggendorf Institute of Technology (DIT). Prof. Dr. Thomas Buchmann, an expert in software engineering and model-driven software development, joins the growing faculty at DIT with immediate effect.

The IT specialist looks back on a successful academic career at the University of Bayreuth. His diploma in mathematics in 2002 was later followed by a doctorate (2010) and habilitation (2017), both in computer science. "After that, I taught and researched for five years as an academic councillor at Bayreuth University," Buchmann reports. But the 45-year-old native of the Upper Palatinate also brings practical business experience with him to Deggendorf. Between his studies and his doctorate, Buchmann worked for Desko GmbH, a developer of hardware for reading documents such as ID cards, barcodes, magnetic strips and chip cards. There he headed the software development department for three years. Prof. Buchmann, who describes himself as "calm, level-headed, but also determined", finds the development dynamics at DIT particularly interesting. "The growth that the Deggendorf Institute of Technology has to show," says the software expert, "is quite impressive." This has excited him and he would like to be on board in order for him to bring his own extensive experience to research and contribute to teaching.
Bild (DIT): Dr. Thomas Buchmann (centre) started as a professor at DIT on 1 September. DIT President Prof. Dr. Peter Sperber (right) and Prof. Dr. Marcus Barkowsky, member of the faculty council, were present at the appointment.