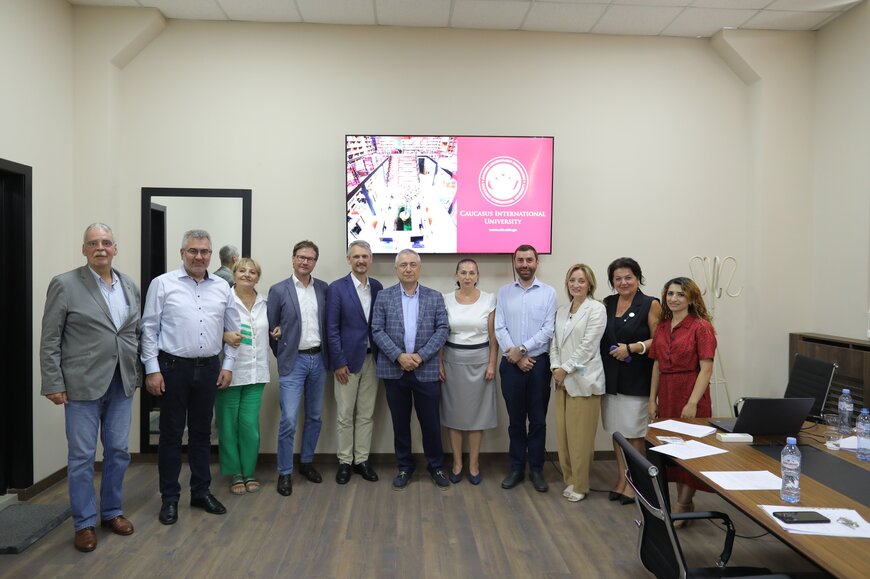 Cooperation with Caucasus International University initiated
University visits Georgia - Cooperation with Caucasus International University initiated
19.9.2022 | DIT Public Relations
The European Campus Rottal-Inn (ECRI) of the Deggendorf Institute of Technology (DIT) launched the Health Tour project at the beginning of the year, which is dedicated to the internationalisation of research and teaching in the field of health tourism. In order to advance this project and establish a new cooperation, a delegation from Pfarrkirchen visited the Caucasus International University (CIU) in Tbilisi, Georgia.
The focus of the visit was on getting to know each other, networking and exploring future cooperation possibilities in line with DIT's focus in research and teaching. The ECRI delegation consisting of Dean Prof. Georg Christian Steckenbauer, Prof. Dr. Marcus Herntrei, Dr. Guido Kaufmann and Dr. Viachaslau Nikitsin was welcomed by Vakhtang Tsivtsivadze, the founder of CIU, Kakhaber Kordzaia, the Rector of CIU and the Dean of the CIU School of Business, Giorgi Abashishvili. In short presentations, ECRI introduced itself with its Health Tour project and CIU gave an overview of its institution. Prof. Steckenbauer and Prof. Herntrei each gave a lecture on health tourism topics for the academic staff of CIU.
As part of the Health Tour project, a Summer School will be held in Pfarrkirchen from 10 to 14 October, which will also be attended by representatives of the CIU. The project is led by Prof. Dr. Marcus Herntrei from ECRI and brings together partners from the Czech Republic, Hungary, Ukraine, Belgium, Croatia and soon Georgia. Important components of the project are meetings and exchanges on an international level, such as at the Summer School taking place in October, or through mobility of teaching staff and students between the partners.
The Health Tour project will be implemented during the period from January 2022 to December 2025 and is funded by the German Academic Exchange Service (DAAD) through the HAW.International programme.
Bild (ECRI / DIT): The project team from Pfarrkirchen with Dr. Guido Kaufmann (l.), Dr. Viachaslau Nikitsin (2nd from l.), Prof. Dr. Marcus Herntrei (4th from l.) and Prof. Dr. Georg Christian Steckenbauer (5th from l.) with the university management of CIU in Tbilisi.