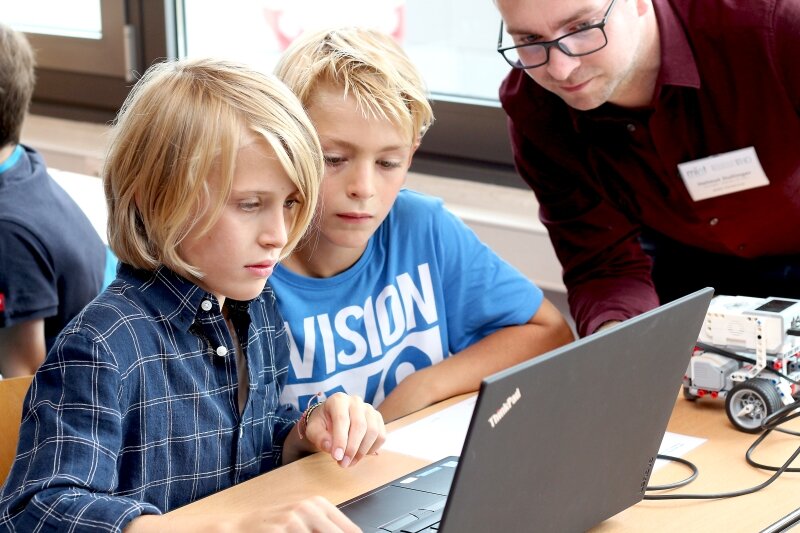 Europe invents – DIT is part of it
CodeWeek also in Bavaria for the first time
4.10.2022 | DIT Public Relations
Tinkering, hacking, programming: From 8 to 23 October, events on the topic of digitalisation will be taking place across Europe. Companies and institutions are opening their doors and inviting people to take part in a wide variety of hands-on activities. This includes the Deggendorf Institute of Technology (DIT), which, together with MINT-Labs Regensburg e.V., has brought CodeWeek to Bavaria as a regional hub.
It starts in Deggendorf on 11 October. For the university's STEM team and Vice President Prof. Waldemar Berg, there will be two reasons to celebrate on this day: At the same time as the starting signal for CodeWeek at DIT, those responsible will also open the new student laboratory at the Deggendorf Institute of Technology. This gives the STEM team and all other DIT stakeholders even better opportunities to welcome and supervise student groups at the university. The school lab, the only one of its kind between Passau and Regensburg, will be in full use during CodeWeek. In the mornings, school groups have booked an exciting schedule of programming, screwing and soldering in the various laboratories and faculties at DIT. From 11 to 13 October, in the afternoons from 2 to 4 pm, the doors of the new student lab will be open to anyone interested. Drop in and join in thi motto, registration is not necessary. During this time, various circuit boards and robots can be programmed using the openrobertalab platform. Members of the STEM team and student tutors are in charge of the lab and are available for help and advice. The lab is located in room G.205, all curious people from the age of eight and young adults are welcome.
Bild (DIT): Inventing and experimenting is the motto of the day at the Europe-wide CodeWeek, in which DIT is participating.