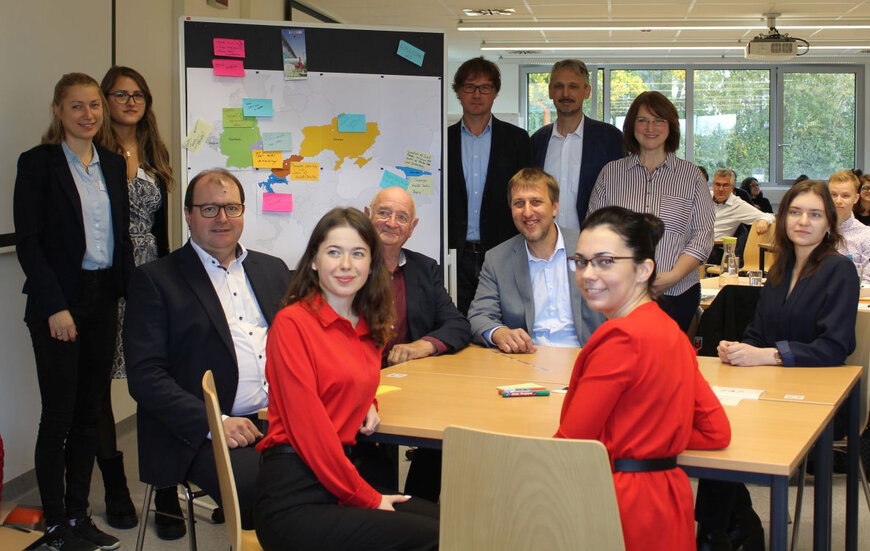 Summer School Health Tour 2022
International exchange at summer school on health tourism
20.10.2022 | DIT Public Relations
In the week from 10 to 14 October, the "Summer School Health Tour 2022" took place at the European Campus Rottal-Inn (ECRI) in Pfarrkirchen. This brought together students and lecturers from five partner universities to promote international initiatives in the areas of research and teaching in health tourism.
A total of 25 students and 10 lecturers from Georgia, the Czech Republic, Hungary, Croatia and Ukraine as well as the Secretary General of the European Spas Association (ESPA) in Brussels took part in the Summer School in Pfarrkirchen. During the week, everything revolved around health tourism and how research and teaching in this field can be linked on an international level. The Summer School had set itself the goal of bringing together training institutions, trainees and practical companies in the district of Rottal-Inn. In this way, training should be better oriented to the needs of the local health tourism businesses in the future. A discussion with representatives of numerous regional businesses took place in the middle of the week under the title "Science meets Industry". The participants were able to take away important ideas and make interesting contacts for future projects and recruitment. This format will continue beyond the Summer School.
In addition, the creation of ideas for future joint projects and events in health tourism for the district of Rottal-Inn was on the agenda. In order to get to know the region better, a health tourism excursion to the Naturium in Ering am Inn as well as to Bad Griesbach took place on Thursday, where the participants were given a guided tour of the spa and the guest services by Mr Altmannsberger and Mr Weinzierl. Afterwards, the group visited the Hotel Maximilan in Bad Griesbach. On this day, promising contacts were made between the students and the companies.
It is precisely the exchange with partners from business and industry and the cooperation on an international level during the Summer School that form the recipe for success for the transnational cooperation. Prof. Dr. Marcus Herntrei, head of the project, emphasised: "This first meeting of all partners from six countries was an inspiring exchange on the status quo in health tourism. We were able to deepen valuable contacts and agreed on very concrete next steps. Already in December 2022, we will continue with mutual working visits as well as the winter workshop of the lecturers. I am proud that the European Campus in Pfarrkirchen is the breeding ground for this great international project".
The "Summer School Health Tour 2022" was financially supported by the friends & associates of ECRI, the Rottal-Inn Economic Development Corporation and WEKO Pfarrkirchen. It was organised as part of the four-year project "Internationalisation in International Tourism Management / Health Tourism" and is funded by the German Academic Exchange Service (DAAD). The project at ECRI is led by Prof. Dr. Marcus Herntrei.
Bild (ECRI / DIT): District Administrator Michael Fahmüller, University Coordinator Georg Riedl and Mayor Wolfgang Beißmann visiting the Summer School.