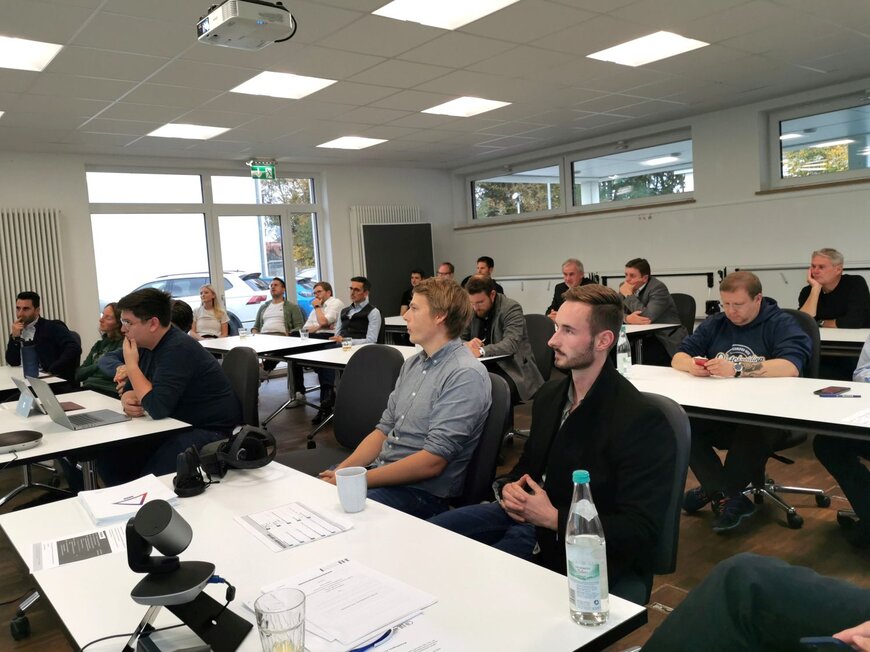 Milestone in the silicon valley program 2022
Sponsors inform themselves at the BITZ Oberschneiding
24.10.2022 | DIT Public Relations
First "Meet the Teams" on 13 October in Oberschneiding. Prof. Peter Schmieder, founder and director of the Bavarian Innovation Transformation Centre (BITZ) took this opportunity to present the work of the Innovation Campus and to provide insights into the focus of the individual professors and mentors in this year's Silicon Valley Program (SVP). The invitation was extended by the board of the "ENGAGEMENT. PROMOTE. SUCCESS. UMSETZEN" (EF.EU).
The members of the association had the exclusive opportunity to meet the founders of the SVP at the Deggendorf Institute of Technology. Since the start of the programme in July, these so-called venture teams have been cooperating intensively with national and international mentors and Prof. Dr. Veronika Fetzer as instructor. The aim of the programme is to bring innovative products to market in such a way that they are attractive to investors and at the same time create regional jobs.
The venture teams presented their companies and products to the invited guests. In the evening, the three mentors Prof. Dr. Tobias Strobl, Dr. Ron Weissman and Geoff Baum were connected live to Silicon Valley during the SVP workshop. Mentor Dr Markus Ortmann was in Oberschneiding in person. There was an exclusive opportunity to experience the pitches of two founder teams. Including feedback from their mentors.
The chairman of the EF.EU Förderverein, Christian Schambeck, was enthusiastic: "I was already able to experience the results of the work in the SVP in Silicon Valley in April. Now we were able to see for ourselves once again how the teams develop their products in line with customer needs." In Schambeck's view, this is the only way to ensure sustainable success. Finally, the sponsoring association invited guests to enjoy pizza, beer and conversation. According to Prof. Peter Schmieder, precisely such networking opportunities are an essential building block for success. "I am glad that we receive such strong support with our EF.EU, especially from an entrepreneurial perspective. This takes our teams an extra step in the right direction."
The aim of EF.EU in this framework is to promote science and research as well as the active networking of companies, idea providers, supporters and professorships.
Bild (DIT): Pitch of the Venture Teams of the Silicon Valley Program during the "Meet the Teams" at BITZ Oberschneiding.