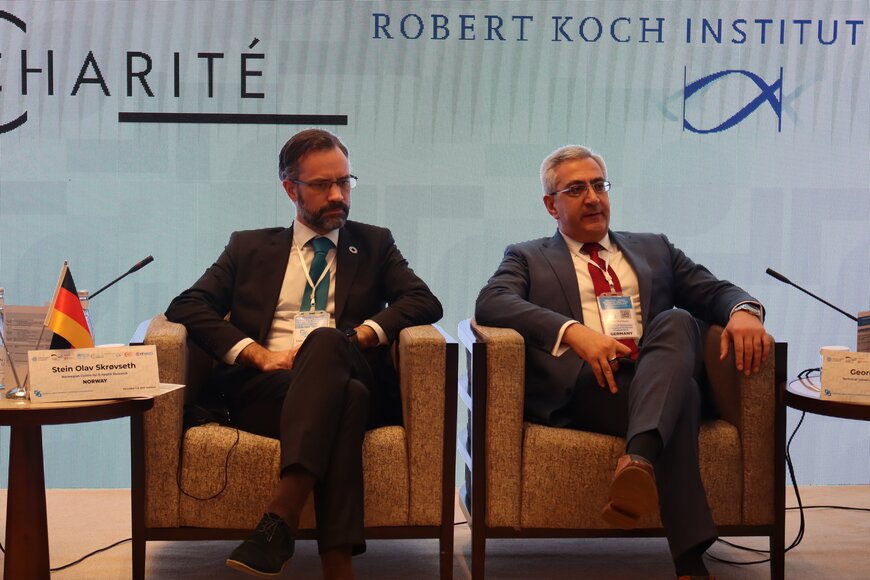 Contribution to development of regional telemedicine programme in Central Asia
Contribution to development of regional telemedicine programme in Central Asia
23.1.2023 | DIT Public Relations
In December 2022, Prof. Dr. Georgi Chaltikyan from the European Campus Rottal-Inn (ECRI), was invited to participate and contribute to the 1st Central Asian Regional Meeting on Telemedicine that took place in Tashkent, Uzbekistan.
The event consisted of two days with extensive workshops attended by healthcare and technology specialists from all over Asia. The goal was to establish a cooperative framework, both among the Central Asian countries, and with the European partners, to develop and implement a cross-border telemedicine network in Central Asia. Prof. Dr. Georgi Chaltikyan was invited by the Robert Koch Institute and the WHO Regional Office as an established international telemedicine expert, to contribute to the analysis of the existing situation, and to help develop the roadmap for this framework.
During the 1st Central Asian Regional Meeting on Telemedicine participants presented their multi-faceted experience, exchanged ideas, and developed a preliminary roadmap of a regional telemedicine network project. They analysed different aspects of such a major telemedicine programme, including needs and requirements, capacity building and education, the technical aspects and interoperability, as well as regulations and the legal requirements. To work out the framework there were panel discussions and participants could join four different discussion groups. Prof. Chaltikyan not only participated in a panel discussion, but he also led the activities in the working group on capacity building and digital health education. At the end of the event, the participants jointly approved and signed a Declaration of Commitment to develop telemedicine and digital health in the Central Asian republics. It is expected that similar activities will be taking place in the next years, to result in the establishment of a functioning and sustainable regional telemedicine programme. Such experience can then be dublicated in other regions of the world.
The 1st Central Asian Regional Meeting on Telemedicine was attended by about 100 healthcare and technology specialists from all five Central Asian republics: Kazakhstan, Kyrgyzstan, Tajikistan, Turkmenistan, and Uzbekistan, as well as from Iran. It was jointly organised by the Deutsche Gesellschaft für Internationale Zusammenarbeit GmbH (GIZ), the main German development agency, the Robert Koch Institute, which is the public health institute in Germany, and Charité – Universitätsmedizin Berlin, one of Europe's largest university hospitals, affiliated with Humboldt University and Free University Berlin. The local organisers were the Ministry of Health of the Republic of Uzbekistan and the Department of Management of Advanced Medical Technologies in Uzbekistan. Other prominent actors were the WHO's Regional Office for Europe, and the Norwegian Center for eHealth Research based at the University of Tromsø.
Bild (ECRI/THD): Prof. Dr. Georgi Chaltikyan discusses the project implementations at one of the panel discussions.