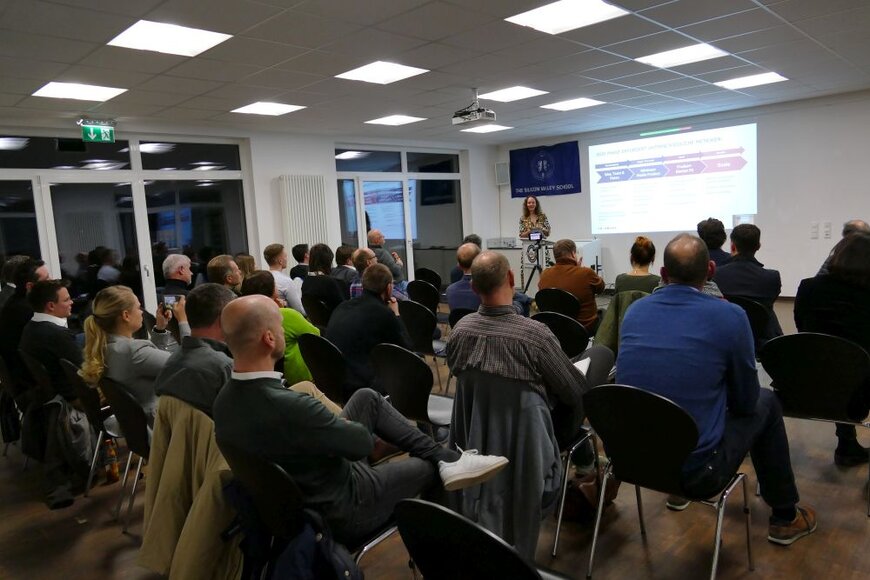 Insights into the world of successful start-ups
BITZ OPEN: Why investors are interested in key figures
6.2.2023 | DIT Public Relations
On 26 January, the second "BITZ OPEN" took place at the Bavarian Innovation Transformation Centre (BITZ) of the Deggendorf Institute of Technology. The series of events in Oberschneiding offers regular insights into the world of successful start-ups. This time it was Prof. Dr. Veronika Fetzer's turn. Her topic: "INVEST READINESS - Key figures from an investor's perspective for seed and growth financing".
How do start-ups meet the requirements of investors? What are the differences in technical risk, market risk and team risk? What distinguishes German business angels and which metrics do I use to measure success? Veronika Fetzer answered these questions using clear examples from her professional experience. She also explained the difference between business angels and venture capital. The former invests in very young teams that only have a prototype to show, but have validated it through numerous customer meetings. Venture capitalists, on the other hand, want to see first products, many users and, above all, high turnover.
Fetzer is certain: "Good key figures, properly applied, help investors to understand the start-up business and the risks and can also change a company's behaviour in the long term. "In the beginning, I always have to ask myself: am I really solving a serious problem with my product? Only in the next step do I ask myself the questions: are there customers for it and how big is the demand?"
As at the first BITZ OPEN in November, the feedback from the guests was very good: "It is always exciting for me to see the encounters and connections that come about at your event in Oberschneiding and the interesting network partners that come together at your event." said Philipp Gellert, himself a successful founder. The deputy district administrator of the district of Straubing-Bogen, Andreas Aichinger, is happy about the Innovations Campus in Oberschneiding: "In addition to entrepreneurial spirit and innovative ideas, we need people who understand how to successfully bring innovations to the market. Here we are very grateful for the support of the BITZ."
The BITZ OPEN series continues on 23 March, then with Prof. Matthias Notz. He will speak on the topic: Ecosystem Thinking instead of "Mia san Mia": How do you build a successful start-up ecosystem in Lower Bavaria? About the "Z" in the BITZ? The event starts at 6 pm. After the lecture, there will again be plenty of time for questions and discussions with the BITZ Oberschneiding team. Further information can be found at: www.th-deg.de/bitz.
Bild (DIT): Prof. Veronika Fetzer, expert in precisely those key figures that interest investors with regard to seed and growth financing.