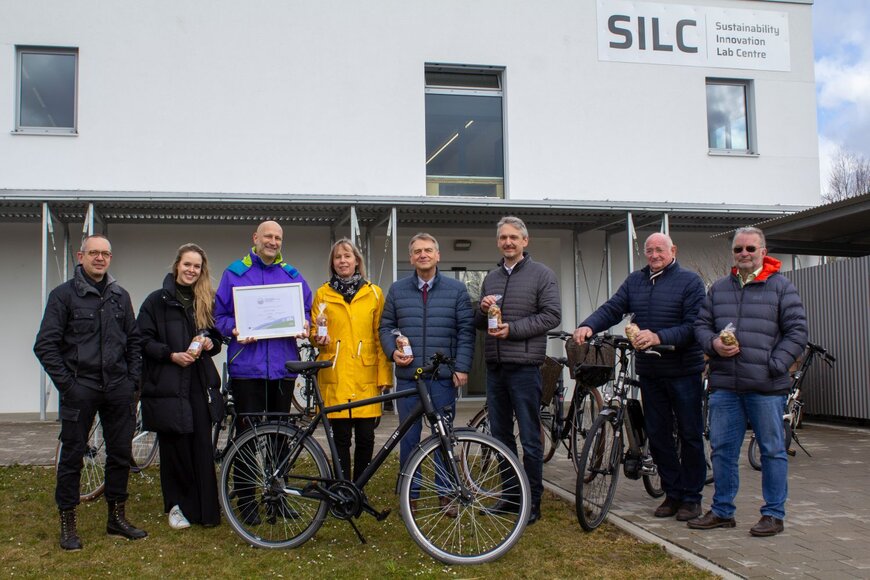 ECRI awarded as bicycle-friendly employer
Sustainability campus awarded as bicycle-friendly employer
15.3.2023 | DIT Public Relations
The European Campus Rottal-Inn (ECRI), sustainability campus of the Deggendorf Institute of Technology (DIT), received the "Silver" seal in the EU-wide "Bicycle Friendly Employer" certification. This makes ECRI the second campus in the whole of Bavaria to boast such a certification.
As a sustainability campus, ECRI has for years relied on various measures to make cycling to work more attractive. Last year, already existing offers, such as the "Bike Station", were expanded and extended by a whole concept. Under the direction of the university's sustainability officer, Prof. Dr. Michael Laar, and his research assistant, Laura Hoffmann, staff bicycles and sanitary facilities for cycling employees were introduced and a cycling competition was held. The two were supported by ECRI's sustainability lab. The package of measures was so well received by the ADFC, the German Bicycle Club, that it awarded the university the "Silver" seal of approval in the EU-wide "Bicycle-Friendly Employer" certification process after only nine months instead of the usual two to three years. Petra Husemann-Roew, regional manager at the ADFC national association, says: "The university supports employees who use bicycles to get to work with many different measures. This brings many advantages: The employer can thus score points in company health, environmental and mobility management."
The certification and the measures that go along with it primarily benefit the university's employees. Regular exercise improves health, increases motivation, reduces the carbon footprint and is easy on the wallet. In future, the experiences at ECRI will also be used at other DIT locations to create incentives to cycle to work.
Bild (DIT / ECRI): Prof. Dr. Sascha Kreiskott, Laura Hoffmann, Prof. Dr. Michael Laar, Petra Husemann-Roew, state director of the ADFC, Prof. Dr. Horst Kunhardt, Prof. Dr. Georg Christian Steckenbauer, university coordinator Georg Riedl and Hermann Gaßner, 2nd mayor of the city of Pfarrkirchen, at the presentation of the certificate (from left to right).