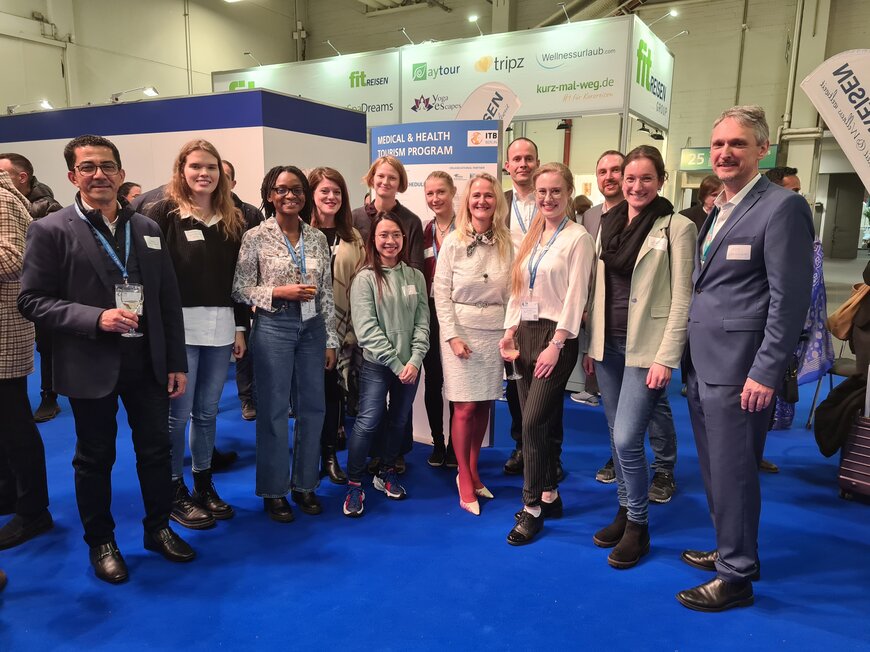 European Campus at the ITB in Berlin
Special focus on the topics of health and medical tourism
10.3.2023 | DIT Public Relations
The International Tourism Exchange ITB is finally back after the pandemic and the European Campus is right in the middle of it. A delegation from Pfarrkirchen was also present in Berlin, where tourism professionals and important players in the global travel industry met from 7 to 9 March. Naturally with a special focus on the topics of health and medical tourism.
"The ITB is an excellent opportunity to establish contact between our students and representatives of leading European associations and companies in health and medical tourism," explains the Dean of ECRI and also Pfarrkirchen delegation leader in the capital, Prof. Dr. Christian Steckenbauer. The tourism industry suffers particularly from the shortage of skilled workers, and that sector, which is specifically dedicated to health, is no exception. "Qualified employees are desperately sought after," says Steckenbauer. As a networking event, ITB is a perfect opportunity for the international students at ECRI to make valuable personal contacts for their future careers. In addition, the young people were able to get a taste of the trade fair at the stand of the European Spas Association (ESPA) and actively experience how this tourism trade fair, after all the largest of its kind in the world, is run. Up close, in front of and behind the scenes. The "get-together" at the ESPA Medical & Health Tourism Pavilion was a great experience.
Bild (DIT / ECRI): Great atmosphere and networking at the ITB in Berlin: Prof. Dr. Christian Steckenbauer (ECRI) on the far right, the lady in the white costume is the Secretary General of ESPA, Csilla Mezösi.