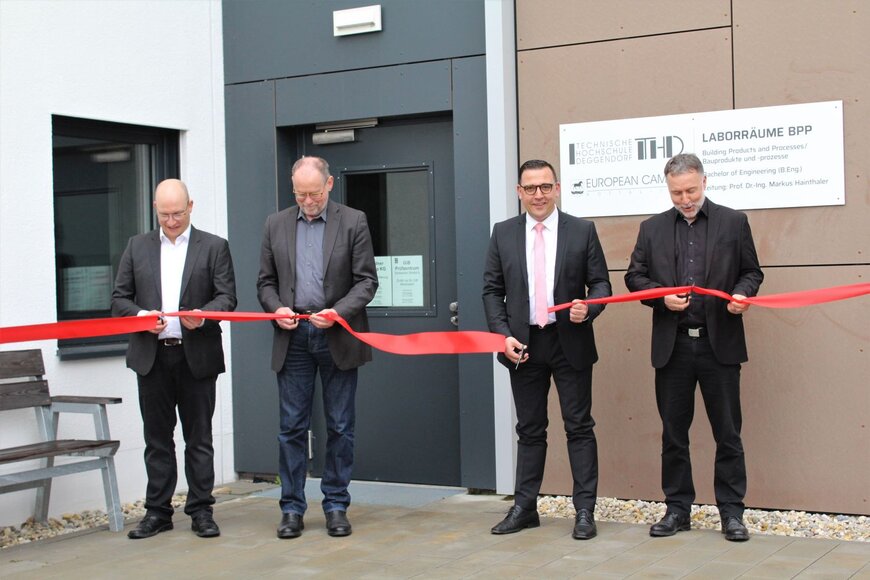 New labs for ECRI
New lab rooms for ECRI
31.3.2023 | DIT Public Relations
The Bachelor's degree programme Building Products and Processes (BPP) at the European Campus Rottal-Inn (ECRI) ceremoniously opened its new lab rooms in Arnstorf on Friday, 24 March. BPP Students can now complete their lab internships in new and high-quality equipped premises.
The lab was opened by course director Prof. Dr. Markus Hainthaler, DIT president Prof. Dr. Peter Sperber, Arnstorf's mayor Christoph Brunner and the managing director of Gesellschaft für innovative Bautechnologie mbH (GiB) Prof. Klaus Lang, who together cut the red ribbon at the entrance to the building. Afterwards, the guests were welcomed in the lab's co-working space, where they learned all about the premises and the unique selling points of the study programme. The fact that new, modern rooms could be rented is a lucky coincidence for ECRI, because the new building in Pfarrkirchen will take several more years to complete.
After the welcome, the guests were given a tour of the premises. In addition to the co-working space, they visited a room for project work, which was used that day by students to present their work and research results. In the BIM lab, everything revolved around Building Information Modelling (BIM), a working method for the networked planning, construction and management of buildings with the help of intelligent software. The indoor climate laboratory offered, among other things, an insight into the functioning of heat and cold pumps. In the fire protection / building materials lab, the guests learned that building materials are not only about fire protection, but also about UV resistance and component vibration.
Following the lab tour, guests were treated to appetisers and drinks and had plenty of opportunity to exchange ideas and chat with the BPP team about the lab, the degree programme and the lab tour.
The BPP lab houses a total of six different rooms and a co-working space. It is rented for five years with an option to extend for another three years in the GiB premises in Arnstorf and will then move back to Pfarrkirchen in the planned new building.
Bild (ECRI / DIT): Course Director Prof. Dr. Markus Hainthaler, DIT President Prof. Dr. Peter Sperber, Mayor Christoph Brunner and GiB Managing Director Prof. Klaus Lang cut the red ribbon to open the BPP Lab.