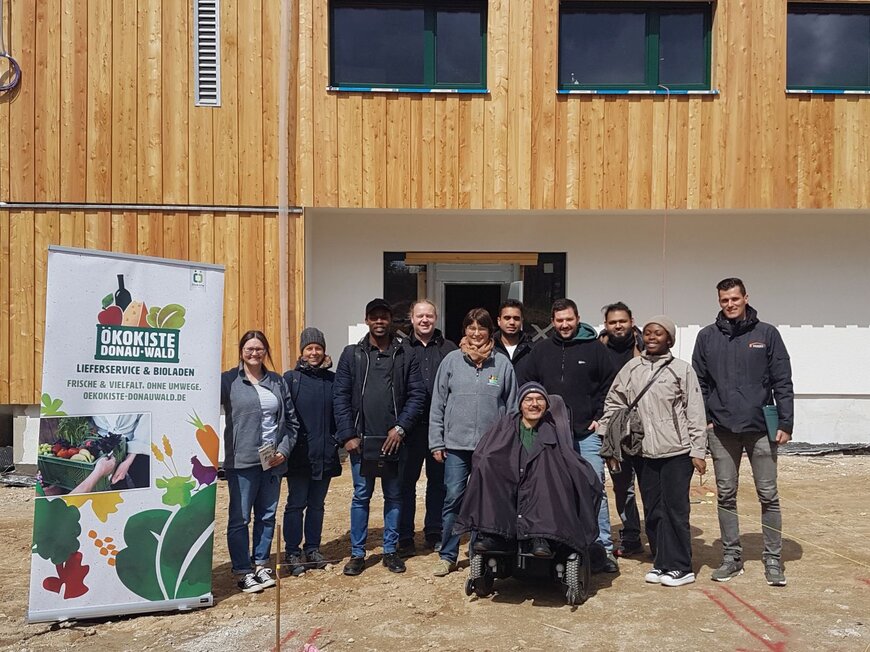 Sustainable, regional, refined: visit to construction site
Sustainable, regional, refined: visit to construction site
8.5.2023 | DIT Public Relations
The current developments towards more sustainability and regionality are also making its way to the surface in the construction sector. The Building Products and Processes (BPP) degree programme at the European Campus Rottal-Inn (ECRI) focuses, among other things, on innovations and how individual building products contribute to the overall balance of a building. Students of this degree programme now visited the construction site of a "green" logistics building to experience first-hand what matters.
The students and laboratory engineer Jennifer Huber had been invited by Martina Kögl-Wiethaler, the owner of Ökokiste DonauWald GmbH & Co. to visit the construction site in Saulburg. Together with her son Xaver and the site managers of the company Haas Fertigbau GmbH, Benedikt Bachmeier and Christian Tippelt, she welcomed the ECRI visitors. After a brief introduction of the Ökokiste and its philosophy of ecology and sustainability, Martina Kögl-Wiethaler went into detail about the building under construction. The customer base, which had grown considerably during the Corona period, required a new logistics building including offices and a salesroom. In keeping with the company's philosophy, a sustainable and refined building was to be created. For this purpose, the decision was made to cooperate with the Haas company, which also focuses on regionality.
Site managers Bachmeier and Tippelt took the students on a tour of the construction site. There they went into details about the building, such as packing stations, hygiene areas, the light-flooded social room for employees, the roof terrace and the green roof. They also presented the challenges of how these could be implemented sustainably and in accordance with the customer's wishes. These details were of great interest to the students, who will later work as an interface between construction manager and civil engineer. Especially the photos of the individual construction phases and progress together with the explanation by the construction managers went down well with the students.
After visiting the construction site of the Ökokiste DonauWald and having a snack together, the group continued to Straubing to the company Wienerberger GmbH. There, the students learned about the company and the production steps of roof tiles and were allowed to take a look at production. This is an important step for the budding engineers to familiarise themselves with different building materials. Later on, they will need to know what is important in sustainable, recyclable building products, such as Wienerberger's roof tiles.
The visit to the construction site of a sustainable company headquarters and the subsequent tour of the Wienerberger plant left the students with many new exciting impressions and gave them a varied insight into the professional field.
Bild (ECRI / DIT): ECRI students visited the construction site of the sustainable logistics building of Ökokiste DonauWald.