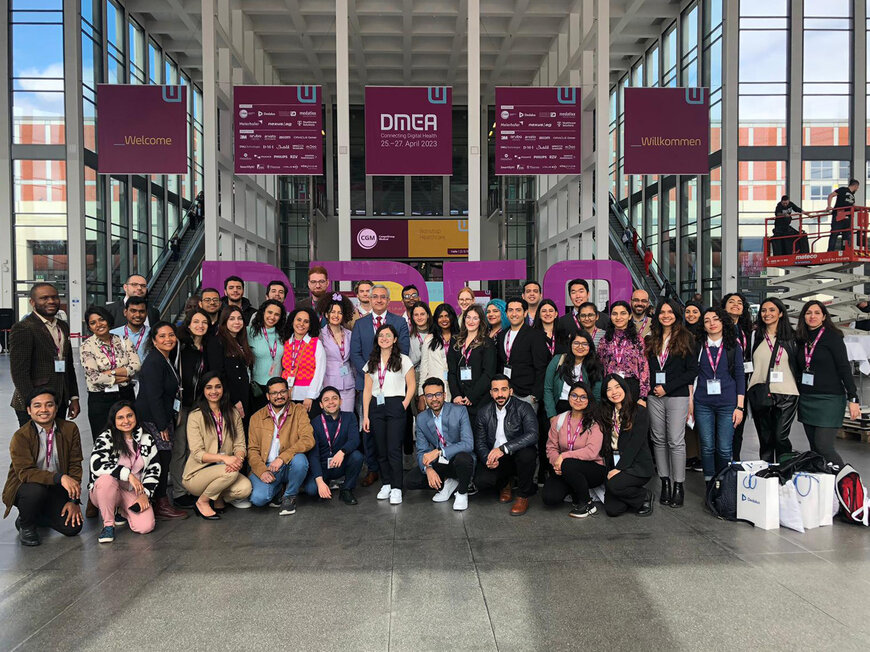 Students visit DMEA in Berlin
On the pulse of time: Students visit DMEA in Berlin
9.5.2023 | DIT Public Relations
Digital health is becoming increasingly important and is now indispensable. Students of the degree programmes Master of Digital Health as well as Bachelor of Health Informatics, and Master of Global Public Health of the European Campus Rottal-Inn (ECRI) visited the DMEA in Berlin, Europe's most important event in the field of Digital Health, from 25 to 27 April.
The students of the three degree programmes share a passion for Digital Health and Health IT. The visit to DMEA, led by Professor Dr Georgi Chaltikyan, is therefore always the highlight of the year, which is why more than 50 students went along to DMEA in Berlin. At DMEA, they took part in the "Guided Tours", among other things, where they were able to learn about selected key topics on site and get to know the corresponding companies, their products and services. In addition, "DMEA Sparks" offered the students the opportunity to talk to medical institutions and companies in matchmaking sessions and thus get to know potential employers. For Professor Chaltikyan's group, the visit to DMEA was the perfect opportunity to gain a comprehensive insight into the latest developments and trends in the industry. The trade fair provided the perfect environment to exchange ideas about digital health with the community in person. In addition, the students learned about a wide range of opportunities for further education, careers and research in this field and are now well equipped for the future.
The DMEA is considered Europe's leading event for digital health. It takes place annually in Berlin and, with over 700 exhibitors and more than 300 lectures and keynotes, offers the professional audience the opportunity to obtain intensive information and network with international experts. This year, over 16,000 people attended the DMEA.
Bild (ECRI / DIT): ECRI students with Prof. Dr. Georgi Chaltikyan (centre) at the DMEA in Berlin.