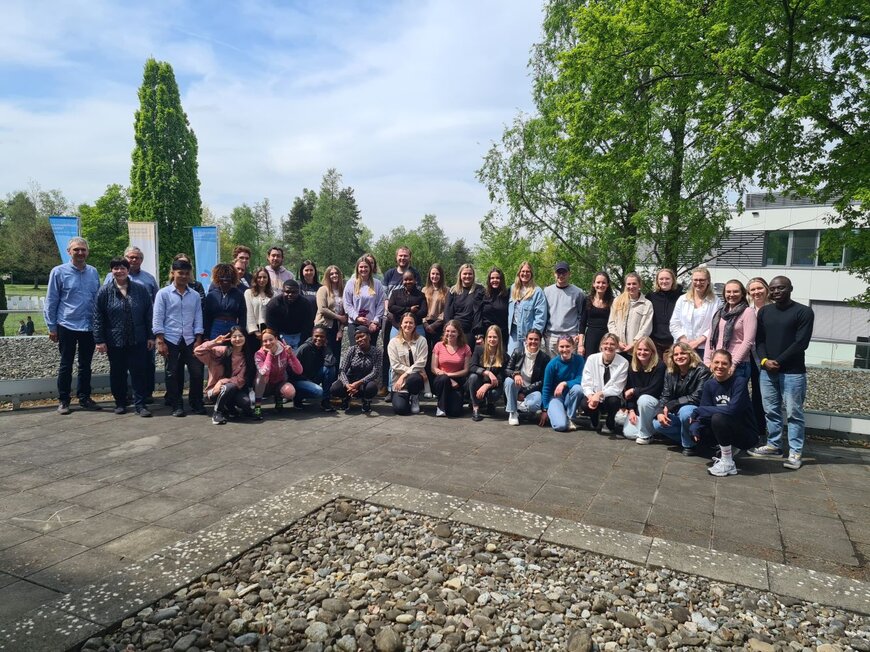 Tourism master plan and product innovations
Tourism Masterplan and Product Innovations: Students in Upper Swabia-Allgäu
23.5.2023 | DIT Public Relations
Students of the Bachelor's programme International Tourism Management of the European Campus Rottal-Inn (ECRI) visited the tourism destination Oberschwaben-Allgäu in Baden-Württemberg together with students of the Lucerne University of Applied Sciences and Arts (HSLU) for a field internship. There they gained extensive insight into what the region has to offer, the cooperation between the individual partners and developed product innovations.
The tourism students from both universities travelled to Oberschwaben-Allgäu together with Prof. Dr. Marcus Herntrei and Prof. Dr. Georg Christian Steckenbauer from ECRI and Prof. Roland Lymann and Lisa Fickel from HSLU. The region is not only halfway between Pfarrkirchen and Lucerne, but with its thermal and mud baths and its focus on health tourism, it offers the ideal conditions for a field placement. The aim was to get to know the diverse offer of the region and the different stakeholders such as hotels, spas, tourism destination and municipalities. Among other things, the group visited the Adelindis Therme, the feelMOOR Gesundresort in Bad Wurzach, the Waldsee-Therme health centre and exchanged views with Petra Misch, the managing director of Oberschwaben Tourismus GmbH. This formed the basis for an analysis of the offer by the students, who developed product innovations based on this, coordinated with the tourism master plan of the destination Oberschwaben-Allgäu.
Bild (DIT / ECRI): Prof. Dr. Georg Christian Steckenbauer, Petra Misch, Prof. Roland Lyman and the students of ECRI and HSLU (from left) at the field placement in Oberschwaben-Allgäu.