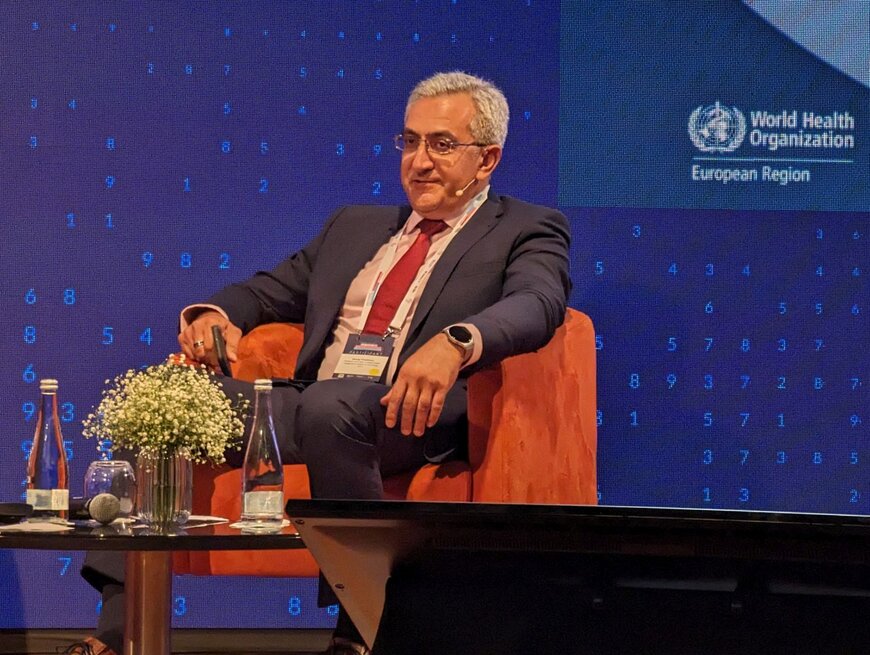 DIT-ECRI contributes to the Second WHO Symposium
DIT-ECRI contributes to the Second WHO Symposium on the Future of Health Systems in a Digital Era
19.9.2023 |
On 5-6 September, the WHO Symposium took place in Porto, Portugal, for the second time in four years. This year, the organisers at WHO invited Professor Georgi Chaltikyan, Head of Digital Health at the European Campus Rottal-Inn of the Deggendorf Institute of Technology (DIT-ECRI), to speak on one of the panels.
The symposium focused on the future of healthcare systems in the digital era in the European region and addressed burning issues facing the industry. The panel on which Prof Chaltikyan was invited to speak was entitled "High-tech vs. high-touch: Can digital technologies mitigate the health workforce crisis?" sought to explore how digital technologies can help address the health workforce crisis. Together with his colleagues, Prof Chaltikyan highlighted the key challenges of digital transformation from a health workforce perspective and the possible solutions to address these challenges.
His presence, together with his colleague from the Digital Health team at DIT-ECRI, Dmitry Etin, marked the ever-growing impact of the Deggendorf Institute of Technology as one of the key pillars of digital health education, research and development in Europe and globally. In addition, a second year student of the Master of Digital Health (MDH), DIT's flagship programme, Ms Airam Regalado Ceballos, was invited to contribute to another panel of students and young professionals entitled "Voices of tomorrow: harnessing the power of youth innovation in (digital) health".
Such a significant contribution by DIT-ECRI to the success of the meeting is in line with the institution's aspirations to become a WHO Collaborating Centre on Digital Health - an important development expected to be completed in early 2024.
Bild (ECRI/THD): Prof. Dr. Georgi Chaltikyan speaking on a panel at the WHO Symposium in Porto, Portugal.