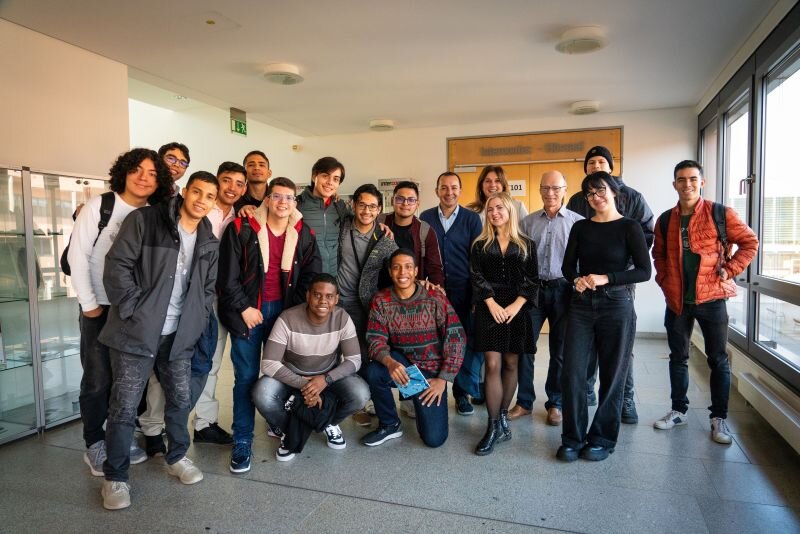 International exchange in electrical engineering
Colombian students explore cutting-edge research from Deggendorf
30.10.2023 | DIT Press office
A group of students from Colombia visited the Faculty of Electrical Engineering and Media Technology at the Deggendorf Institute of Technology (DIT) at the end of October. An initiative from DIT and the Colombian University Del Valle made the visit possible. The guests from Colombia were warmly welcomed by the faculty and students of the electrical engineering program and were introduced to cutting-edge research and emerging technologies.
Highlights of the visit included a tour of several laboratories, a meeting with students during a laboratory internship, lectures, and workshops by professors. For Prof. Dr.-Ing. Nikolaus Müller, academic advisor at the Faculty of Electrical Engineering and Media Technology, international exchange programs like these are invaluable: "We are very happy to have these talented students from Colombia with us. This experience will benefit not only them, but our academic community as well."
Of course, the Columbian students also explored the old town of Deggendorf, tasted traditional Bavarian cuisine and made their first friends. For Juan Pablo Lasso Jaramillo, the trip to Germany was an unforgettable experience: "At the Faculty of Electrical Engineering and Media Technology, the practical implementation of what has been learned theoretically is made possible in well-equipped laboratories. This way you understand everything better and learn much faster. The people we met in such a short time were so welcoming and we will carry these memories in our hearts forever."
The Faculty of Electrical Engineering and Media Technology wants to welcome more international students in the future and establish more relations in the field of electrical engineering. The educational exchange between DIT and the Universidad Del Valle marked the beginning.
Bild (DIT): The Colombian students were enthusiastic about the electrical engineering and hospitality in Deggendorf.