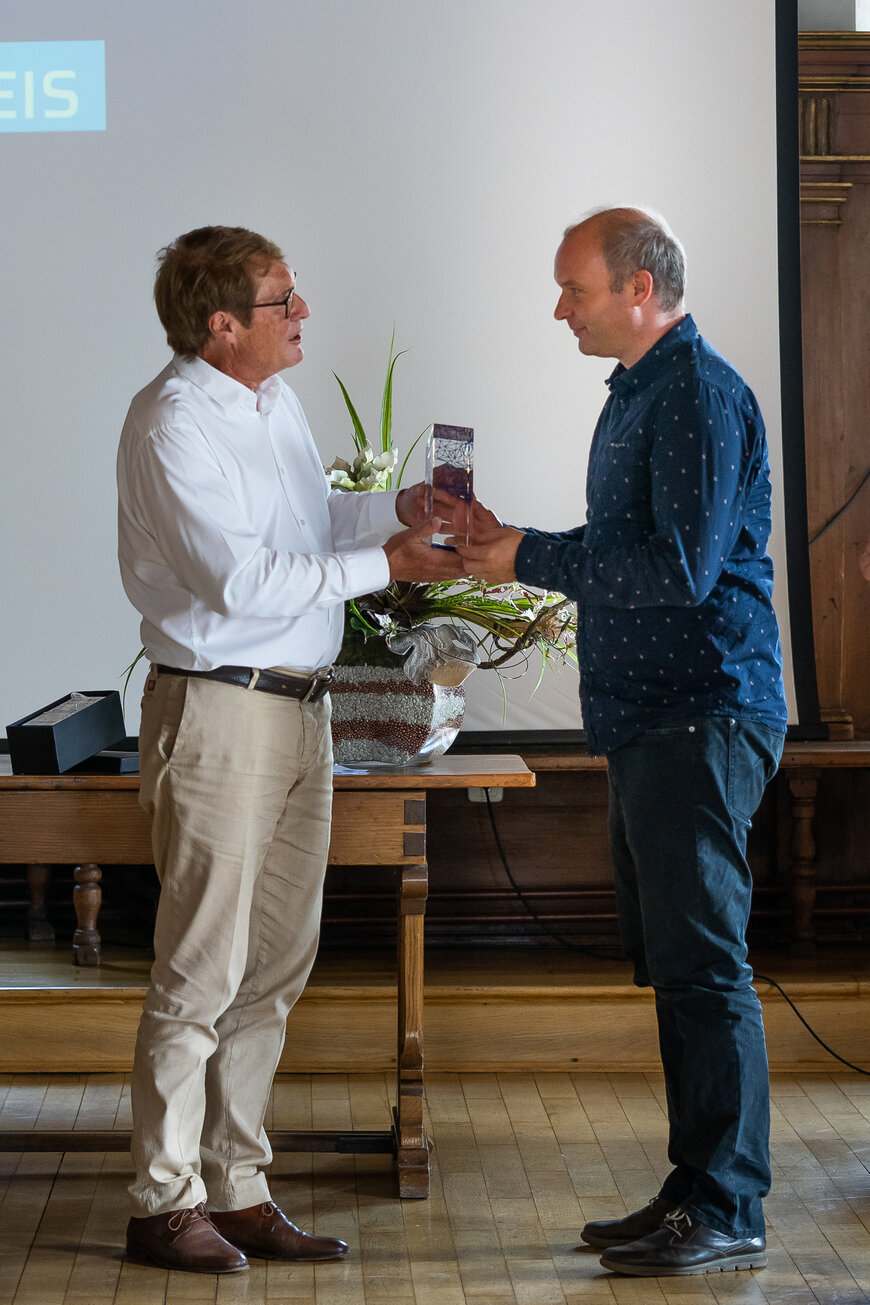 Deggendorf AI Prize will be continued in 2023
Digital innovations will be awarded and funded
26.9.2022 | DIT Public Relations
The "Anton Fink Science Prize for Artificial Intelligence (AI)", which was awarded for the first time this year by the Deggendorf Institute of Technology (DIT), will go into the second round in 2023. Individuals, start-ups, universities, research institutes, foundations or even companies can win. The prerequisites are ground-breaking achievements in the research, development or practical applications of artificial intelligence. 10,000 euros will be awarded as the main prize, as well as the young talent award for final theses with 1,000 euros.
"Competitive mechanical engineering and modern services are at the core of our prosperity," says pharmacist Anton Fink, explaining his personal motivation to offer this prize again. In addition, the topic of medicine is particularly close to his heart. "That is why the current call for entries also includes AI applications in the field of medicine," as Fink explains. The prize is intended to honour and promote corresponding digital innovations.
Applications with projects, research results or teaching offers are accepted from Germany, Austria and the Czech Republic. The deadline for applications is 31 January 2023. Applications must include information on the projects, research results or teaching offers, a sketch of the innovation created by them and a curriculum vitae of the applicant.
Individuals aged 18 and older who are resident in the countries mentioned are eligible to apply. But also groups or companies that have their headquarters there. However, these must designate a natural person to make the application and take responsibility for it. Submissions are accepted in both German and English.
Prof. Dr. Patrick Glauner, who is mainly responsible for supervising the science award on the DIT side, is pleased with the AI innovations that won prizes this year: "Prof. Dr. Jan Schmitt from the University of Applied Sciences Würzburg-Schweinfurt had convinced us with his many years of work on the production-related use of flexible and precise robots". In addition, the young talent award went to Sarah Riedmann and Jonas Harb from the Salzburg University of Applied Sciences. In their double master's thesis, both had implemented an innovative guidance control system for production systems with the help of "Deep Reinforcement Learning".
The award ceremony is scheduled for 11 May 2023 in Deggendorf. The jury includes the former Bavarian Minister of Science Bernd Sibler and the founder, pharmacist Anton Fink himself.
Details on the call for entries are available at www.th-deg.de/ai-prize.
Bild (DIT): The KI award 2022 was given to Prof. Dr. Jan Schmitt from the Institute Digital Engineering (IDEE) from the university of applied sciences Würzburg-Schweinfurt.