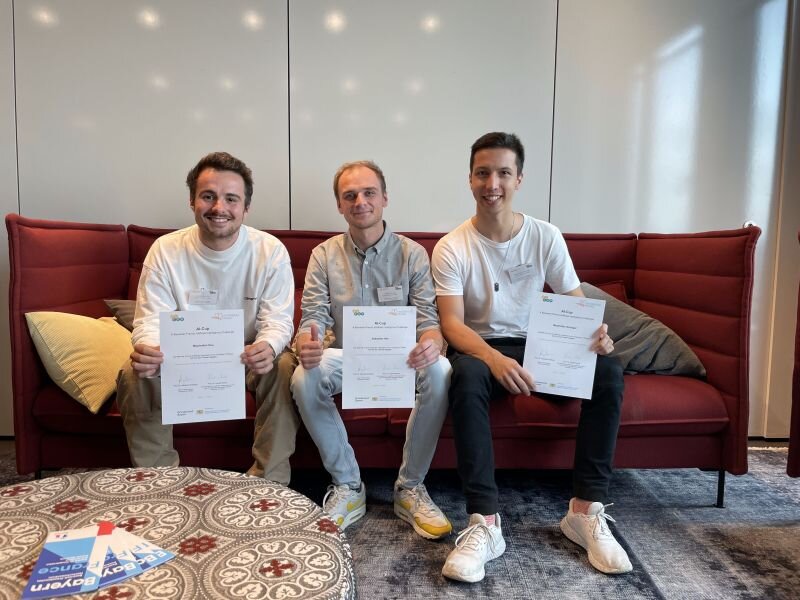 Success for start-up Career Captain
Start-up wins AI competition with career guidance platform
21.10.2022 | DIT Public Relations
The startup "Career Captain" from Deggendorf has won a five-figure scholarship in a Bavarian-French competition in the field of artificial intelligence - up to 95,000 euros are earmarked for each of the eight best competitors. Now the founding team, which is supervised at the Deggendorf Institute of Technology (DIT), can pursue its start-up idea in the coming year. The Career Captain platform is intended to support young people in choosing a career by means of artificial intelligence (AI).
Above all, pupils should be able to find out their professional interests and get to know suitable companies via Career Captain. To do this, they have to take an orientation test that suggests suitable job profiles with the help of artificial intelligence. It is important to the founders that the platform is playful and appropriate for the target group.
The AI Cup, in which Maximilian Hau, Sebastian Hau and Maximilian Anzinger participated with Career Captain, is a Bavarian-French start-up initiative to support the next generation of AI entrepreneurs and bring forth innovative AI start-ups in Europe. This year, the University of Passau hosted the AI Cup. In the group of entrepreneurial competitors, the three founders took third place. The team started working on the platform two years ago. With the DIT Startup Campus as an advisory centre, they received an EXIST start-up grant, which expired in September. The funding from the AI Cup is important follow-on funding for the team.
Bild (DIT): Maximilian Hau, Sebastian Hau and Maximilian Anzinger are a start-up team from the Deggendorf Institute of Technology.