Kishore Kanade
2007 | Master Electrical Engineering and Information Technology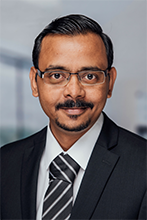 Kishore Kanade is an international alumnus of DIT. He reports about his study life in Deggendorf as an international student.
Career development
Currently I am working as a Senior Technical Project Test Lead for a project from a famous European OEM. I am responsible for a team here in Germany as well as Offshore Location. Regular planning, task assignment, monitoring and controlling are a part of my day to day activities. I am also responsible for setting up resources, hardware as well as software tools at Offshore Locations and Customer Locations for the execution of the project. I along with my team actively take part in the project developement starting from the scratch till the product is launched into the market and also for after market support.
Reminiscing allowed: remember your student days
Our study time in Deggendorf was very special. It opened up a totally different platform for us. We got in touch with many international aspects. It was very interesting to learn about the culture through various social events organised by AKI. The university provided us very interesting latest technology projects directly from the companies. We learnt a lot with the help of very friendly and supportive faculty members, professors and teaching staff of various departments at Deggendorf Institute of Technology.
What advice would you give to today's students?
Deggendorf Institute of Technology is a great platform to start your career with. It prepares you very well with all the latest technology that is in high demand in the current industry. The various technical subjects, projects and master thesis topics are tailor made for individual technical topics keeping in mind the industry standards. The professors, teaching staff and faculty members are always there for you. You get a clear direction in the university about your future. If you are ready to receive the knowledge, the university has a lot of potential to help you in shaping up your future.