Florian Drittenthaler
2021 | Master Technology Management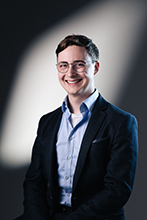 Career Development
Since August 2022, I have been working as the Industrial Engineer responsible for technology at Zollner Elektronik AG at the Neukirchen b. Hl. Blut site. In this role, I am responsible for strategic technological development. This includes joint research projects, incidentally also with DIT as a research partner, project management for the procurement of equipment and various digitalisation projects. Through my studies in industrial engineering and the subsequent master's programme in technology management, I was able to create a sound knowledge base for my current tasks. What has my path looked like to date? I started my career in 2018, at that time still at Lindner Group SE. At the beginning, as a trainee in the Integrated Management Service (IMS) department. Here, I was able to work fully from the very beginning and was immediately perceived as a fully-fledged colleague. Already during the internship, my future area of responsibility, the support of all English subsidiaries of the group of companies, was formed. Immediately after my internship semester, I was able to take over and get full responsibility for this. In this function, it was my responsibility to audit and further develop the quality management systems according to ISO 9001:2015. The execution of these tasks included regular business trips, through which I was able to get to know a variety of inspiring personalities. I am particularly grateful for the friendships that have resulted. I worked at Lindner until I started my Master's degree (Technology Management).
In the course of my Master's degree, I took up a position as a working student in operational quality management at Zollner Elektronik AG in February 2020. As I was immediately able to impress everybody in the new environment, my contract was changed to a permanent position after just one month. As a result, I already had a permanent full-time position, with all the responsibilities, during my Master's degree. Due to the outbreak of the CoViD-19 pandemic, almost all face-to-face meetings were suddenly shifted to a virtual environment, which made it possible for me to dedicate myself to both my job and my studies at the same time. In the next two and a half years, I played a major role in building up the quality department at the Neukirchen b. Hl. Blut site. Here I was able to benefit greatly from my experience with quality management systems and introduce sustainable processes and the associated tools. Since the summer of 2022, I have been working in my current position as the industrial engineer responsible for technology.
Reminiscing allowed: remember your student days
It's mad how time flies! It seems like it was yesterday, my first semester day. It was almost eight years ago when I started my industrial engineering studies at DIT on the first of October 2015. Fresh out of school, I started my student life full of joy and diverse expectations. Yes, I look back fondly on my time at DIT, as it was marked by many unforgettable moments. unforgettable moments.
During the first semester, I was allowed to be a "buddy" (supervisor) for international students, which was the foundation stone for my desire to also complete a semester abroad. When I think back to my time at DIT, I immediately think of my wonderful time in Finland. Everyone knows about sleepless nights during their studies. For me, it wasn't just Formula Student that was the source of such nights, but also the studies themselves and the student's evening activities that contributed to them in no small way. I now look back fondly on all the experiences and adventures I was able to have in connection with DIT.
What advice would you give to today's students?
Try your hand, get involved in all kinds of ways. There are so many opportunities to get involved at DIT. Be it one of the many university clubs, university sports or a semester abroad. Try out everything you feel like or are interested in. Think of your time at DIT as a big playground where you can discover your strengths, preferences or even your own personal passion. I can recommend one association in particular: AlumniNet. In my opinion, you should join this directly on Freshers' Day. Here, students from a wide variety of degree programmes and all semesters and graduation years come together. And the best thing is to stay in touch with the university after graduation. Speaking of staying in touch, if you have any questions, feel free to contact me on LinkedIn.