Turgay Mus
2003 | Electrical Engineering and Information Technology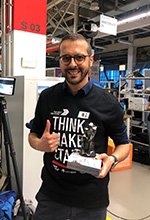 Career development
After finishing my GCSEs, I decided to study electrical engineering at the Deggendorf Institute of Technology. The degree was inspiring because it was not only theory, but also had a focus on practical application through internships. Furthermore, I was a member of the then "High-Tech-Offensive Bayern" team led by Prof. Dr. Ing. Grzemba. After successfully completing my electrical engineering studies at DIT in 2003, I continued to work as a laboratory/project engineer for industrial projects at the university until 2004. My first job in the free economy was from March 2004 until the end of September 2006 in the company Trimble Terrasat GmbH as GPS/GNSS/Galileo as software developer and project manager in development projects. Here I developed software and protocols for real time gps/gnss correction data distribution (e.g. protocol NTRIP or software GPSNet, NTRIPCaster). In October 2006 I changed to the automotive industry, to the company ASK Industries GmbH in Niederwinkling as developer and technical project manager for automotive audio amplifiers (including Porsche Burmester MOST audio amplifiers) from the development phase to SOP (and beyond) as a SW developer and also as a technical project manager. From 2011 to 2018, I worked at the automotive supplier HARMAN (Samsung subsidiary). My work was in the MOST/CAN/CAN-FD/Ethernet audio amplifier development department. My development work was very international, for example by travelling directly to the development site in Suzhou/Shanghai in China or the cooperation with Indian SW colleagues defined my everyday working life, among other things. At the same time, my exciting tasks included visits to conferences and the preparation of publications in specialist magazines. Customer projects at MBW (Booster, RAM), Volkswagen and Mercedes were my main focus. Since July 2018, I have been working as an engineer at BMW AG. The current highlight here was the application for a patent for the method of assessing welds using an artificial neural network.
Reminiscing allowed: Remember your student days
If someone were to ask me today whether I would study again? I would definitely say YES, but at the same add, "but only at the Deggendorf Institute of Technology". Since I am one of the first graduates from the Deggendorf Institute of Technology, we didn't have as many offers as there are today, but the DNA of the university hasn't changed. We still have top professors at the university and a range of courses that is unique in the region. I was proud of that back then and even more so today.
What advice would you give to today's students?
I graduated at the age of 23, speak a variety of foreign languages (including Chinese) and have been working at BMW AG for three years. I won a prize at the internal international innovation week Think.Make.Start, where I developed a patent in just one week. I definitely owe the basis for this innovative ability to my education at the Deggendorf Institute of Technology. Therefore, my advice to my future academic colleagues of tomorrow is that they should value their time on campus, because it is really something "special" to be able to study at the Deggendorf Institute of Technology.