Jaime Recalde
2009 | International Management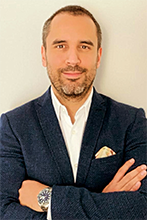 Just one year after completing his studies, Jaime Recalde founded his own company with one of his best friends. This was the best decision in his life, he says.
Career Development
Entrepreneur / Business developer
After graduating from High School in South America, Ecuador, I went to live in the US for 6 months. This was a great experience. It opened my views regarding the world. Later, I started studying in the university in Ecuador "Business administration" for a year, after that, I worked for the car manufacture AUDI which connected me with Germany, during this time in my life, it became clear to me that I wanted to study abroad, I was hungry for more. I started studying in Deggendorf in 2005 which was an amazing experience, coming from a big city in South America, Deggendorf was so familiar, personal and exciting. I had the opportunity to make my semester abroad in Italy and later my internship in the UK which were very valuable for my personal growth. After my studies in Deggendorf I have been working for a German company called "Lindner AG" for 4 years as the Sales manager for the Latin American Markets, I was able to travel all over Latin America and I had the pleasure of getting to know extremely interesting people; this was an eye opener to see what was actually possible. In 2010, I started my own company Ecualeman GmbH with one of my best friends, this was the best decision in my life, now we are one of the main suppliers of goods to clients in Europe, South America and Asia. In 2014, I opened a second company "Café Sud America (CSA) GmbH", bringing premium coffee with our own brand from South America to Europe. Due to all my past experiences, I soon realized that anything is possible if you are willing to take the risks, be disciplined and patient.
Reminiscing allowed: Remember your student days
During my studies I had a different view of the world. I saw many invisible rules that don't really exist in the real world, I had the opportunity to get to know myself, to get to know people from different backgrounds which I believe is extremely important for your personal growth. Leaving the place and people you grow up with is a very therapeutical thing, I wish everybody could have this experience.
What advice would you give to today's students?
Focus in people the most, look for people with values, with different backgrounds. Connections are more powerful than CV's, you need to build your own army with great people around you to be able to go further in life. Learn to be a team player, stay in contact with all your international fellow students, you never know, you might start a company with them in the near future.
Pay attention to 3 things moving into the future; your financial independence, your mental/physical health and your relationships, this is more important than anything you believe is important during your studies. It's impossible to be happy all the time, accept it, but these 3 points will bring you peace. A peaceful environment is the key to a fulfilling and rewarding life.