Josef Süß
2009 | Strategic and International Management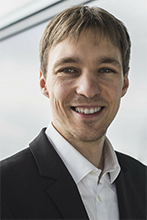 Career Development
I am an entrepreneur with all my heart. I've never had a job except for the mandatory internships. During my Business Administration studies in Deggendorf I founded my first company. But before that, I had already started working as a freelance advertising photographer. That's how I mainly financed my studies. After my studies, I specialised in e-commerce for a few years and learned a lot. Among other things I designed, built and operated the first online shop for the umbrella manufacturer Knirps based on my own idea. After about five years I sold the shop. Whether alone, with partners or for clients, I have managed to bring some e-commerce concepts to the market - with varying degrees of success, but this is clearly part of the learning process.
My network has grown considerably, which has also led to a role as a consultant for medium-sized companies in the areas of business development, marketing and innovation management. For one of my customers I found my current Indian colleagues at BlinkIn and commissioned them to program an app. We stayed in touch beyond the project and in 2018 they approached me to ask if we would like to develop a "digital pocket assistant" together.
A few weeks later, we started BlinkIn during my visit to India. Today, we are active with the Video Collaboration Platform in more than 40 countries, with customers from all over the world and lots more plans for BlinkIn! Recently, we helped a Bavarian company to install their ventilation systems in Wuhan from a distance. In Italy BlinkIn was also used to maintain the critical infrastructure. Currently, all signs at BlinkIn are pointing to growth. We are also looking for reinforcements for the areas AI and Computer Vision.

Reminiscing allowed: remember your student days
I have fond memories of my student days. Especially during my Master's, the lectures were very discussion-heavy and therefore very entertaining. With 10 people in a seminar it is also difficult to duck away. I was able to take the necessary tools from my studies for my ventures.
At the same time, I like to think back to the time outside the lecture rooms! Although I did not live in Deggendorf, I hardly missed any events. I stayed in touch with many of my fellow students - among them are really clever people who get things going and with whom I regularly exchange ideas. In any case, my network has profited a lot from my studies in Deggendorf.
What advice would you give to today's students?
Setting goals, having fun, seizing opportunities! Make mistakes and learn from them. Do not take yourself too seriously and concentrate on the matter at hand. Observe all your life, listen and then do better. Build a strong network and generate value from this.
It doesn't matter what you have studied or in which field you are working - every day offers countless opportunities for people who are willing to consistently build up their own skills and use their energy for a goal at any time.
I can really only recommend to take the path to independence. The start-up community in Germany is growing, the general conditions are constantly improving, cooperation with larger companies is working very well now- the world is open to a well-positioned start-up if we think and act in a customer-oriented manner.