Thomas Dannerbauer
2009 | Technological Business Administration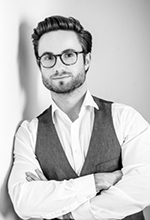 Thomas Dannerbauer talks about his colourful CV, his internship abroad, his placement in Madrid and his time as board director at the Verein AlumniNet e.V.
Career Development
In my rather colourful resume, I simply start where I think it might be interesting: After graduating (Quali) I did an apprenticeship as a specialist for employment promotion at the job centre, which made me realise quickly that the job market is not always a walk in the park, but also that I am interested in many other areas in the economic sector and therefore outside the job centre. Therefore, I had no other choice than to bite the bullet and take the technical baccalaureate in Deggendorf. After a short detour to the vocational academy at the discount store Aldi I finally ended up at the TH Deggendorf...and that was a good thing!
I studied technical business administration in Deggendorf from 2005 to 2009, which opened up a quite broad spectrum of professions. My first job after my studies was in the aviation industry at MTU Aero Engines in Munich in technical purchasing. I really enjoyed the daily contact with suppliers in the U.S. and Mexico, with the employees in the highly complex production and with the experienced quality engineers. But at first I was completely blank in terms of content, and my colleagues often heard me say, "What's this metal thing here?
In 2012, it was time to go one step further and I became Global Commodity Manager at BSH (Bosch's home appliances division). There I was responsible for global strategic purchasing for electronics in the small appliances division of the Household Appliances division. As it turned out to be a very exciting and dynamic field, I spent almost five years traveling the world for BSH. Parallel to my job, I trained for over three years in continuing education and completed my NLP Master and NLP Trainer (NLP - Neurolinguistic Programming) in 2017. This resulted in a job at BSH headquarters as a global lean management coach and trainer for indirect areas, where I have been working since July 2017. I help colleagues to question their working methods across cultural boundaries. I offer them methods and techniques to independently create improvements in terms of collaboration, effectiveness and efficiency.
Reminiscing allowed: remember your student days
Time... that was something, contrary to today, I had. It was a great time of trial and error and of looking beyond the horizon. Thanks to the various seminars, events and the cool leisure activities offered by the university, you could quickly make contacts and it never got boring. As a semester speaker and member of various university committees, I also had the opportunity to experience more internal affairs. My "job" as a board member of AlumniNet e.V. was also very exciting and showed me what it means to keep several balls in the air. Four months of an internship abroad in a small company in Madrid finally brought my Spanish language skills to an acceptable level. Right after the internship my wallet was empty, so that I also worked in marketing at a solar company as a working student. Since I was already used to working, I wrote my diploma thesis at MAN in Munich in the purchasing department and dealt with the optimization of value flows and relocation back to Germany, among other things. After seven semesters I received my diploma in business administration.
What advice would you give to today's students?
For me, studying means trying things out, getting a taste of the topics and above all leaving one's own comfortzone to see what's out there. Be committed and use the time to broaden your horizon professionally, but also personally. What else...hmmm...have fun, enjoy the many opportunities in Deggendorf and make friends (maybe) for life!